Partnership Opportunities
Point-of-Treatment Assays to Direct HIV Treatment
Developing simple, rapid methods for determining drug resistance and viral persistence
Technology Overview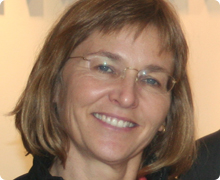 Dr. Lisa FrenkelDr. Frenkel's group does basic, clinical, and translational research on mechanisms of HIV persistence and HIV drug resistance. This work is the basis for a rapid, point-of-treatment, oligonucleotide ligation assay (OLA) being developed in conjunction with scientists and engineers from the University of Washington. Their assay will detect if a patient with HIV has viruses resistant to treatment with World Health Organization defined "first-line antiretroviral therapy (ART), or if a patient acquires drug-resistance viruses during treatment or pre-exposure prophylaxis.
ART has revolutionized HIV treatment, but studies by Dr. Frenkel and others show that the prevalence of viral drug resistance, even before treatment, is increasing. A simple test for pretreatment drug resistance could help clinics, particularly in resource-limited areas, by ensuring that patients will benefit from standard "first-line" ART. The test could help patients with drug-resistant HIV by directing their health care providers to prescribe other therapies that will be effective for their HIV.
The basis for OLA is Dr. Frenkel's research that identified single-nucleotide polymorphisms (SNPs) in the HIV genome that, if detected prior to ART, confer viral resistance and are associated with therapeutic failure. Patients infected by HIV with these point mutations are not expected to respond to first-line ART. And if a patient's treatment stops working due to intermittent treatment, these mutations are selected.
OLA is a multiplexed test that detects the HIV SNPs associated with ART treatment failure. To perform the assay, the viral nucleic acids from a patient sample are amplified, followed by addition of oligonucleotide probes. If the probes are perfectly complementary to the viral DNA at the SNP and two adjacent nucleotides the probes will be covalently ligated to each other, which generates a fluorescence-based or other visual signal.
Dr. Frenkel's group successfully field-tested OLA in a randomized trial onsite in a clinical laboratory in Kenya. The trial showed that OLA can be implemented in a resource-limited setting and improve the clinical outcome of individuals who entered the study with drug-resistant viruses.
Dr. Frenkel is interested in partnerships to further develop OLA. Examples of advancements in OLA include generating rapid, paper-strip OLA for multiplexed detection of ART-resistant HIV strains. Providing the assays in simple kits could promote their implementation in areas with limited resources. Dr. Frenkel is also working on V-OLA, a rapid point-of-care assay to monitor viral load and test for HIV drug-resistance mutations.
Stage of Development
Pre-clinical ex vivo
Clinical trials
Partnering Opportunities
Collaborative research opportunity
Sponsored research agreement
Consultation agreement
Tissue sample access
Kit development
Publications
Learn More