Partnership Opportunities
Improving Outcomes for Heart Transplant Recipients
Using donor-recipient Human Leukocyte Antigen (HLA) eplet mismatches to assess risks for pediatric heart transplant patients
Technology Overview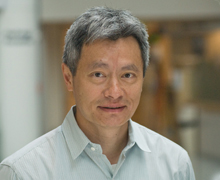 Dr. Yuk LawSeattle Children's Hospital is the Northwest's regional referral center for pediatric cardiomyopathies, heart failures, and transplants. Over the past decades, mortality in the first year after pediatric heart transplant has decreased dramatically. However, little improvement has been made in extending event-free survival beyond the first year.
In addition to co-leading the hospital's pediatric heart transplant team, Dr. Yuk Law has an active research program focused on improving the long-term outcomes for transplant recipients. Dr. Law has a long-standing collaboration with Bloodworks Northwest, a premier bloodbank that, among other services, performs human leukocyte antigen (HLA) testing to match donated organs to recipients. HLAs are proteins that act like barcodes on cells, marking them as self or non-self. The level of donor-recipient HLA matching is the main factor that determines if transplanted tissue will be tolerated or rejected.
Dr. Law's research group is investigating the prognostic power of in-depth HLA matching in collaboration with Dr. Paul Warner, director of the Bloodworks Northwest Immunogenetics/HLA laboratory. Dr. Law and collaborators used nationwide transplant data and the HLAMatchmaker algorithm to count mismatched HLA eplets – antigenic sequences and structures that antibodies might recognize as foreign – between pediatric heart donors and recipients. They discovered a significant association between the number of eplet mismatches and long-term graft loss, and are currently studying which donor-specific antibodies are critical to graft failure.
This preliminary work supports the potential for development of clinical tests, for example by modifying existing bead-based HLA antibody testing assays, to more specifically replicate eplets over simple HLA alleles to diagnose rejection without endomyocardial biopsy, and to prognosticate which antibodies lead to graft loss over time. By more precisely linking the production of pathologic anti-HLA antibodies to rejection and graft injury, such a tool can also aid the application of existing drugs and the development of new therapies against rejection.
Dr. Law has expertise in pediatric heart disease, treatment, and biomarkers. His collaboration with Bloodworks Northwest gives him access to a large number of patient samples and research partners with knowledge of immunogenetics, including computational analyses of large datasets. This team is interested in industry partners to develop diagnostic tests for improving donor-recipient matches and monitoring alloreactive immune responses and to develop therapies aimed at improving the quality of life and longevity of solid organ transplant recipients.
Stage of Development
Partnering Opportunities
Collaborative research and development opportunity
Sponsored research agreement
Tissue sample access
Consultation agreement
Publications
Sullivan PM, Warner P, Kemna MS, … Law YM. HLA molecular epitope mismatching and long-term graft loss in pediatric heart transplant recipients. J Heart Lung Transplant. 2015; 34: 950-957.
Peng DM, Law YM, Kemna MS, Warner P, Nelson K, Boucek RJ. Donor-specific antibodies: Can they predict C4d deposition in pediatric heart recipients? Pediatr Transplant. 2013; 17:429-435.
Albers E, Warner P, Kemna M, Law S, and Law YM. C1q testing in pediatric heart transplant recipients at risk for antibody mediated rejection. ISHLT, April 2014.
Learn More