Partnership Opportunities
Understanding Cerebellar Development
Discovering genes that affect the cerebellum and may contribute to autism and epilepsy
Technology Overview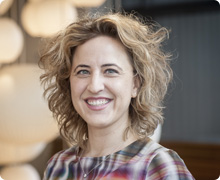 Dr. Kimberly AldingerThe cerebellum is a highly interconnected brain structure that integrates complex brain signals to connect motor function with cognition, emotional regulation, and language processing. Although the structure of the adult cerebellum is well studied, we're only now learning about the molecules and cells that are required to build the cerebellum.
Cerebellar function is impacted when its structure is altered due to a birth defect, loss of brain cells, or cancer. Diseases that affect multiple brain regions, including the cerebellum, can also compromise cerebellar function. When cerebellar malformations are detected in early development, the diagnostic journey is only beginning. Altered mechanisms that in one child may present as hydrocephalus, can appear in another as cerebral palsy, in still others as epilepsy, autism or learning difficulty. Research breakthroughs often start by finding genes that alter the normal path of brain development in a child. Dr. Aldinger recently completed the first study focused on identifying genetic changes that lead to cerebellar malformations. However, her results found that a particular cerebellar birth defect, Dandy-Walker malformation, rarely has a genetic cause. This initial study only targeted the exome, or the coding part of the genome. Dr. Aldinger is now using whole genome sequencing to thoroughly search for mutations in Dandy-Walker malformation. She is also using new technology called single cell sequencing to trace brain development. These methods provide a window into individual cells that give us new information about how different types of cells grow and change over time and could be specifically vulnerable in disease. Dr. Aldinger has constructed a high-resolution map of the developing cerebellum, which she uses to pinpoint where and when gene mutations might lead cerebellar development off course and to benchmark in vitro models of cerebellar development. She is also using single cell sequencing to identify vulnerable cells in specific diseases including autism, epilepsy, and Down syndrome.
Dr. Aldinger is interested in partnerships that apply sequencing and other high-throughput techniques used to study the effects of gene mutations and identify cellular origins of disease.
Stage of Development
Partnering Opportunities
Collaborative research and development opportunity
Sponsored research agreement
Consultation agreement
Collaborative animal model development
Publications
Learn More