Partnership Opportunities
Developing Treatments for Congenital Heart Defects
Zebrafish CRISPR editing and congenital heart defect models
Technology Overview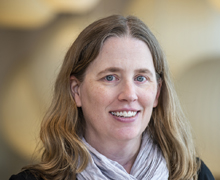 Dr. Lisa Maves
Led by Dr. Lisa Maves, one goal of the Maves lab at Seattle Children's Research Institute is to understand the genetic mechanisms involved in building the heart. They are taking advantage of CRISPR-Cas9 genome editing technology, and of zebrafish as an animal model system, to identify the genetic causes of congenital heart defects. In particular, they are engineering zebrafish to carry DNA mutations that are found in human patients with heart defects. These approaches allow the Maves lab to use the zebrafish to understand how specific genes work to properly form the heart. Because the zebrafish genome and early heart development are very similar to that in humans, work in the Maves lab will have direct relevance for understanding human heart development and congenital heart defects. Insight from their work will allow for more precise genetic screening and counseling for congenital heart defect patients and their families.
With their expertise in using CRISPR-Cas9 genome editing technology in zebrafish, the Maves lab have the capability to engineer knock-out and precise knock-in zebrafish strains. They have the ability to apply these tools not just to genetic loci involved in congenital heart defects, but to genes involved in other diseases as well. In particular, the Maves lab is able to engineer patient-specific fish, with the goal of using CRISPR-engineered zebrafish models to better understand human disease. The aquatics facility at Seattle Children's Research Institute is well-equipped with tools for using CRISPR-Cas9 in zebrafish.
Dr. Lisa Maves' Faces of Research Video
Stage of Development
Partnering Opportunities
Collaborative research opportunity
Sponsored research agreement
Consultation agreement
Sample access
CRISPR engineering and screening of potential disease loci
Publications
Farr GH 3rd, Imani K, Pouv D, Maves L. Functional testing of a human PBX3 variant in zebrafish reveals a potential modifier role in congenital heart defects. Dis Model Mech. 2018;11(10):dmm035972.
Kao RM, Rurik JG, Farr GH 3rd, Dong XR, Majesky MW, Maves L. Pbx4 is required for the temporal onset of zebrafish myocardial differentiation. J Dev Biol. 2015;3(4):93-111.
Paige SL, Thomas S, Stoick-Cooper CL, Wang H, Maves L, Sandstrom R, et al. A temporal chromatin signature in human embryonic stem cells identifies regulators of cardiac development. Cell. 2012;151(1):221-32.
Learn More