Partnership Opportunities
Treatments for ADHD
Treatments for deficit hyperactivity disorder (ADHD) and related problems through personalized medicine and improved diagnosis
Technology Overview
Attention Deficit Hyperactivity Disorder (ADHD) is a very common problem, affecting 6 to 10% of children. Children with ADHD often have concomitant psychiatric, medical and learning problems, and if untreated, teens with ADHD have a higher chance of school failure and dropout, substance or alcohol abuse and delinquency. Interventions, both through medication use and behavior conditioning therapy, have high proven efficacy in treating ADHD and associated mood disorders in children.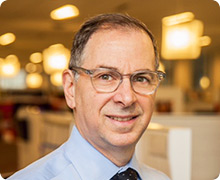 Dr. Mark Stein
Dr. Stein, past president of the American Professional Society for ADHD and Related Disorders, is an internationally recognized leader in ADHD treatment and through the lifespan. His group has overseen many clinical trials where their multi-disciplinary diagnostic approaches have been used as the gold standard against which the FDA establishes efficacy for novel ADHD assessment methods. This has placed Dr. Stein and his team in an excellent position to help manage upcoming clinical trials at every stage of development (phase I-IV).
Ongoing work conducted by Dr. Stein's group has focused significantly on personalized treatment regimens for ADHD and other neurobehavioral disorders. Two of the initiatives overseen by Dr. Stein that have shown great efficacy are the Program to Evaluate/Enhance Attention, Regulation & Learning (PEARL) clinic, and a summer treatment program called Camp Sea STAR. Both of these initiatives emphasize high levels of direct and personalized therapy to help build social and organizational skills, and have shown significant behavioral improvements in patients over relatively short timeframes. Dr. Stein also conducts research focused on precision medication. This includes the identification of clinical and genetic biomarkers that can guide the selection of the most effective treatment options for individual patients. Dr. Stein also has expertise in the measurement of sleep and activity level, and is interested in developing new interventions targeting sedentary activity and other impairments associated with ADHD. His team is also working on a telehealth platform to treat multiplex ADHD families, and continuing studies on the relationship between ADHD and sleep problems and genomic predictors of response to ADHD treatment.
Dr. Stein is interested in industry partnerships that leverage his vast experience in ADHD evaluation, including development of mobile apps designed for use in assessing outcomes for clinical trials and for improving treatment adherence. Furthermore, Dr. Stein is interested in developing commercial treatment programs for ADHD (e.g., summer treatment programs, tutor-based treatment programs), training opportunities for industry partners, and research to identify biomarkers that will facilitate personalized treatment of ADHD, as well as clinical trial management and consultation.
Stage of Development
Partnering Opportunities
Collaborative research opportunity
Sponsored research agreement
Consultation agreement
Software/app development
Publications
Learn More