Partnership Opportunities
Identifying Novel Drug Targets for Allergy and Asthma
Investigating mast cell contributions to inflammation-related diseases and adverse drug events
Technology Overview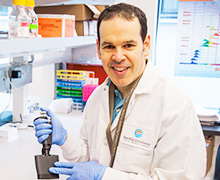 Dr. Adrian PiliponskyMast cells are known to be involved in allergies, and recent clinical findings indicate they may also be major contributors to severe asthma. Surprisingly little is known, however, about the basic biology of mast cells. Dr. Piliponsky and colleagues are using proteomics to better understand different mast cell subtypes. Their identification of cytokines and other agents released by mast cells have generated new hypotheses and evidence about mast cell effects on inflammation and how to regulate them. Their analysis of proteins on the surface of mast cells is leading to more precise information about what triggers mast cell activation, which could potentially lead to more effective drugs for allergies and asthma.
Current allergy drugs mainly block the effects of histamines released from mast cells. Dr. Piliponsky's focus is upstream of histamines. Drugs that target the activating factors identified by his group could prevent or reduce the inappropriate release of histamines and other symptom-inducing compounds from mast cells.
Dr. Piliponsky's research also addresses mast cells' role in adverse drug events, including injection-site inflammation and anaphylaxis. An antibody-independent activating receptor has been recently identified on mast cells, creating new opportunities for investigating mast cell involvement in responses to medicines and in creating treatments that avoid these adverse events.
Dr. Piliponsky is one of few experts in the world on the biology of mast cells and their activation. His findings have the potential to identify novel drug targets for allergies, asthma, and other inflammation-related diseases, including autoimmune disorders such as rheumatoid arthritis. He is interested in partnerships that use his facilities and experience in diverse mouse models for in vitro and in vivo drug screening and studying the precise role of mast cells in allergies, asthma, and chronic inflammation.
Stage of Development
Pre-clinical in vivo
Pre-clinical in vitro
Pre-clinical ex vivo
Partnering Opportunities
Collaborative research opportunity
Sponsored research agreement
Consultation agreement
In vivo drug screening
Publications
Learn More