Partnership Opportunities
Treatments For Heart Arrhythmia
New technologies for improving catheter ablation
Technology Overview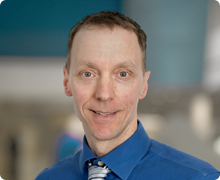 As a clinician and electrophysiologist, Dr. Stephen Seslar is focused on improving technology for catheter ablation, a treatment for heart arrhythmia. Heart arrhythmia disorders are caused by age, heart disease, injury, surgery, and other factors. Catheter ablation is a minimally invasive technique that uses a catheter inserted at the groin and threaded up to the heart to detect the electrical signals from the muscle cells of the heart, and to determine the exact location of electrical signals that cause the heart rhythm disorder. The catheter is then used to either freeze or cauterize a very small area of the heart to prevent the aberrant electrical signal from giving rise to the arrhythmia.
Dr. Seslar is focused on using cutting edge technology to improve catheter ablation. For example, he has developed a catheter ablation training simulator using 3D modeling and printing. The training simulator has many uses and applications: Models of generic adult or pediatric hearts can be used to train doctors who are new to the technique. Alternatively, a radiographic image of the heart of a specific patient can be turned into a 3D model to be used for surgical practice and to understand what sorts of issues could arise during the procedure. Dr. Seslar is currently interested in using virtual reality to improve the accuracy of the simulator as it relates to the real-life experience of performing catheter ablation.
In collaboration with applied mathematicians, Dr. Seslar is developing a computer algorithm to find the locations of arrhythmias more quickly based on their electrical signatures. And in collaboration with materials engineers, he is working to develop new catheters. Further, Dr. Seslar believes that technology will allow for simplification and lowered cost of the catheter ablation procedure in the future, which could expand the use of this technique to developing countries.
Dr. Seslar is interested in developing industry partnerships to create new technologies that can improve his training simulator and can improve catheter ablation as a treatment for arrhythmia.
Stage of Development
Device development in preparation for pre-clinical in vivo studies
Partnering Opportunities
Collaborative research and development opportunity
Sponsored research agreement
Licensing agreement
Consultation agreement
Publications
Hermsen JL, Burke TM, Seslar SP, Owens DS, Ripley BA, Mokadam NA, Verrier ED. Scan, plan, print, practice, perform: Development and use of a patient-specific 3-dimensional printed model in adult cardiac surgery. J Thorac Cardiovasc Surg. 2017; 153: 132-140.
Seslar SP, Kugler J, Batra AS, et al. The Multicenter Pediatric and Adult Congenital EP Quality (MAP-IT) Initiative-rationale and design: report from the pediatric and congenital electrophysiology society's MAP-IT taskforce. Congenit Heart Dis. 2013; 8:381-92.
Seslar SP, Patton KK. Initial Experience with a Novel Electrophysiology Mapping Simulator. PACE 2017. In press.
Learn More
To learn more about partnering with Seattle Children's Research Institute on this or other projects, please contact:
Dr. Elizabeth Aylward, Director
Office of Science-Industry Partnerships
Seattle Children's Research Institute
818 Stewart Street, Suite 603
Seattle, WA 98101
Email
206-884-1065