Partnership Opportunities
Treatments For Heart Arrhythmia
New technologies for improving catheter ablation
Technology Overview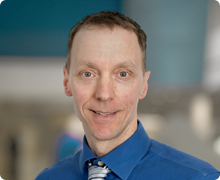 Dr. Stephen Seslar
As a clinician and electrophysiologist, Dr. Stephen Seslar is focused on improving access to specialty procedures such as catheter ablation, a treatment for heart arrhythmia. Heart arrhythmia disorders are caused by age, heart disease, injury, surgery, and other factors. Catheter ablation is a minimally invasive technique that uses a catheter inserted at the groin and threaded up to the heart to detect the electrical signals from the muscle cells of the heart, and to determine the exact location of electrical signals that cause the heart rhythm disorder. The catheter is then used to either freeze or cauterize a very small area of the heart to prevent the aberrant electrical signal from giving rise to the arrhythmia.
Dr. Seslar is focused on using cutting edge technology to improve access to catheter ablation. For example, he has developed a catheter ablation training simulator using 3D modeling and printing. The training simulator has many uses and applications such as generic or patient specific heart models that can be used to train doctors who are new to the technique. Dr. Seslar is also exploring the use of virtual reality to improve the portability and educational value of the simulator as it relates to the real-life experience of performing catheter ablation. Finally, Dr. Seslar believes that this technology will eventually allow for simplification and lowered cost of the catheter ablation procedure in the future, which could expand the use of performance of these procedures in the rural US and developing countries.
Dr. Seslar is interested in developing industry partnerships to create new technologies that can improve his training simulator and can improve catheter ablation as a treatment for arrhythmia.
Stage of Development
Device development in preparation for pre-clinical in vivo studies
Partnering Opportunities
Collaborative research and development opportunity
Sponsored research agreement
Licensing agreement
Consultation agreement
Publications
Learn More