Partnership Opportunities
Understanding Congenital Disorders of Glycosylation
Studying the natural history of rare, recently discovered genetic diseases
Technology Overview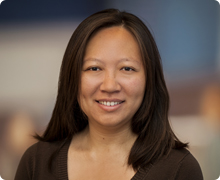 Dr. Christina LamDr. Lam is determining the course and causes of congenital disorders of glycosylation (CDGs), a group of rare childhood diseases that was first described in 1980. Children with these conditions show a range of clinical features including developmental delay, bleeding problems, and heart defects. Before molecular methods such as genome sequencing led to the identification of CDGs, children with these disorders were diagnosed with more general conditions such as seizure disorder or cerebral palsy.
CDGs are caused by mutations in genes involved in glycosylation. Glycosylation is the process where sugar structures are made or added to molecules like proteins and lipids, which are the functional and structural components of cells. The mutations that cause CDGs have effects on glycosylation or deglycosylation. Because many proteins and lipids are glycosylated, the inability to add, alter, or remove these modifications has wide-ranging effects on many organs of the body including the heart, liver, blood and brain.
Better understanding of CDGs is necessary before diagnostic methods and effective treatments can be developed. Understanding these basic conditions may also lead to better understanding of more common childhood diseases, in which aberrant glycosylation contributes to the pathophysiology. In collaboration with the National Institutes of Health (NIH), Dr. Lam is studying the natural history of CDGs – their causes, clinical consequences, and progression. With the National Human Genome Research Institute of the NIH, Dr. Lam is working on a clinical database of information on CDG patients.
Dr. Lam is one of the few physicians in the United States with expertise on the clinical and genetic aspects of CDGs, knowledge of CDG databases, and close connections to patients and their families. The genetic bases of these underdiagnosed diseases are still being discovered. Dr. Lam is interested in partnerships to plan and conduct clinical studies on biomarkers, therapies, and management strategies for CDGs.
Stage of Development
Clinical trial development
Partnering Opportunities
Collaborative research & development opportunity
Sponsored research agreement
Consultation agreement
Clinical data access
Clinical trials
Publications
Lam C, Ferreira C, Krasnewich D, Toro C, Latham L, Zein WM, Lehky T, Brewer C, Baker EH, Thurm A, Farmer CA, Rosenzweig SD, Lyons JJ, Schreiber JM, Gropman A, Lingala S, Ghany MG, Solomon B, Macnamara E, Davids M, Stratakis CA, Kimonis V, Gahl WA, Wolfe L. Prospective phenotyping of NGLY1-CDDG, the first congenital disorder of deglycosylation. Genetics in medicine. 2017;19(2):160-168.
Ng BG, Shiryaev SA, Rymen D, Eklund EA, Raymond K, Kircher M, Abdenur JE, Alehan F, Midro AT, Bamshad MJ, Barone R, Berry GT, Brumbaugh JE, Buckingham KJ, Clarkson K, Cole FS, O'Connor S, Cooper GM, Van Coster R, Demmer LA, Diogo L, Fay AJ, Ficicioglu C, Fiumara A, Gahl WA, Ganetzky R, Goel H, Harshman LA, He M, Jaeken J, James PM, Katz D, Keldermans L, Kibaek M, Kornberg AJ, Lachlan K, Lam C, et al. ALG1-CDG: Clinical and Molecular Characterization of 39 Unreported Patients. Human mutation. 2016;37(7)653-60.
Lam C, Golas GA, Davids M, Huizing M, Kane MS, Krasnewich DM, Malicdan MC, Adams DR, Markello TC, Zein WM, Gropman AL, Lodish MB, Stratakis CA, Maric I, Rosenzweig SD, Baker EH, Ferreira CR, Danylchuk NR, Kahler S, Garnica AD, Bradley Schaefer G, Boerkoel CF, Gahl WA, Wolfe LA. Expanding the clinical and molecular characteristics of PIGT-CDG, a disorder of glycosylphosphatidylinositol anchors. Molecular genetics and metabolism. 2015;115(2-3)128-40.
Learn More