Partnership Opportunities
Developing Treatments for Duchenne Muscular Dystrophy
Zebrafish as a preclinical model for evaluating DMD drug therapies and biomarkers
Technology Overview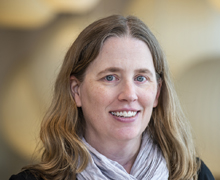 Dr. Lisa Maves
Led by Dr. Lisa Maves, the Maves lab's goal is to establish zebrafish as a preclinical translation model for evaluating new drug therapies for Duchenne muscular dystrophy (DMD). Efficient methods for studying drug combinations are particularly important in DMD because many patients take corticosteroids as well as cardiac medication, and any new pharmacological therapies need to be compared and tested for efficacy in the presence of these current treatments.
DMD zebrafish offer several advantages over other animal models for preclinical work: the zebrafish model more closely resembles human DMD in symptom severity; both cardiac and skeletal muscle phenotypes (structure and function) and other biomarkers can be easily monitored; and drug efficacy can be established in studies with duration as short as 4 days. The Maves lab is also developing novel fluorescently-tagged dmd zebrafish alleles to facilitate early disease and high-throughput studies.
The zebrafish model can also be used to assess mRNA and microRNA biomarkers associated with disease progression and drug-induced disease amelioration using qRT-PCR and RNA-seq. Because many of the drugs the Maves lab assesses are already being used in the clinic or in clinical trials, findings from their zebrafish research could potentially be rapidly incorporated into drug-combination therapies for patients. In addition, the analysis of the DMD cardiac phenotype and cardiac mRNA markers addresses a critical knowledge gap in DMD cardiac issues that may be relevant in the development of new therapies.
The aquatics facility at Seattle Children's Research Institute is equipped with tools specific to measuring muscle abnormality in the zebrafish DMD model and allows for high-throughput screening for DMD therapies, either individually or in combination. Dr. Maves' research tools can also be applied to facioscaphulohumeral muscular dystrophy and other forms of the disease.
Dr. Lisa Maves' Faces of Research Video
Stage of Development
Partnering Opportunities
Collaborative research opportunity
Sponsored research agreement
Consultation agreement
Sample access
High-throughput screening of DMD therapies
Publications
Learn More