Partnership Opportunities
Biomarkers for Improving Transplant Success
Using flow cytometry as an immunophenotyping technique to predict transplant immunoreactivity and tolerance
Technology Overview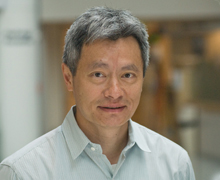 Dr. Yuk LawFor children who need a heart transplant, finding an appropriate donor and undergoing the transplant procedure is only the beginning of a long clinical journey. Pediatric cardiologists have made great advances in increasing survival immediately after transplant. However, work remains to extend those improvements through young adulthood and beyond. Before launching clinical trials of new drugs or innovative cell-based therapies aimed at extending the lifespan of pediatric heart transplant patients, researchers need to identify appropriate populations of patients to study.
Dr. Yuk Law is exploring immunophenotyping T helper (Th) cells as a biomarker of future transplant tolerance or rejection. One function and identifying feature of Th1 and Th2 cells is their role in releasing cytokines that regulate the immune responses. Dr. Law's interest in this area stems from the observation that many pediatric heart transplant patients have allergies, which are associated with Th2 dominance. In these patients, a higher eosinophil count, as a clinical surrogate of an atopic phenotype and hence possible Th2 dominance, may be associated with less graft rejection. Dr. Law hypothesizes that the specific immunophenotypic profile of a transplant patient over time—for example Th1 vs. Th2 dominance—may predict likelihood of graft rejection and cardiac allograft vasculopathy (coronary artery disease).
Dr. Law's research group is collaborating on studies to utilize flow cytometry to perform advanced immunophenotyping in solid organ transplant recipients. For example, he and his colleagues are investigating the most informative cell-surface and intracellular markers and most effective staining techniques for categorizing Th cells.
Dr. Law is interested in partnerships to study immunophenotyping as a reliable biomarker for transplant tolerance or rejection. He is also interested in collaborating with researchers who are studying new therapies including cell-engineering-based strategies for inducing graft tolerance. Dr. Law's work on diverse transplant-associated biomarkers is applicable to identifying and defining populations of patients for clinical trials on novel treatment strategies.
Stage of Development
Partnering Opportunities
Collaborative research and development opportunity
Sponsored research agreement
Tissue sample access
Consultation agreement
Publications
Wong M, Boucek R, Kemna M, Rutledge J, and Law YM. Immune cell function assay in pediatric heart transplant recipients. Pediatr Transplant. 2014; 18: 485-90.
Arbon KS, Albers E, Kemna M, Law S, Law Y. Eosinophil count, allergies, and rejection in pediatric heart transplant recipients. J Heart Lung Transplant. 2015; 34:1103-11.
Vaughn GR, Jorgensen NW, Law YM, et al. Outcome of antibody-mediated rejection compared to acute cellular rejection after pediatric heart transplantation. Pediatr Transplant. 2017. doi: 10.1111/petr.13092. Epub ahead of print
Learn More