Partnership Opportunities
Newborn Screening for Wilson Disease and Other Lysosomal Storage Diseases
A new method uses dried blood samples to detect lysosomal storage diseases, primary immunodeficiencies, and Wilson disease
Technology Overview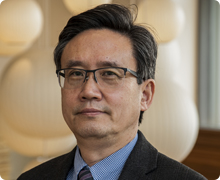 Dr. Sihoun HahnEvery year in the United States, 4 million babies are born, most of whom are screened by a simple blood test for dozens of conditions that are not evident at birth but have serious health outcomes if not treated early. Newborn screening is cost effective and can protect children and families from devastating consequences of certain inborn disorders.
About 150 babies a year are born with Wilson disease, which causes copper to accumulate in organs such as the liver. With a simple zinc-based therapy administered early, people with Wilson disease lead normal lives. Untreated, they eventually need a costly liver transplant. Unfortunately, methods for routine newborn screening for Wilson disease have not been available.
Dr. Sihoun Hahn and colleagues developed a rapid, practical method for testing infants for Wilson disease. The method can also be used to diagnose primary immunodeficiencies similar to severe combined immunodeficiency (SCID), such as X-linked agammaglobulinemia (XLA) and Wiskott Aldrich Syndrome (WAS), for which infants are not yet tested. It can also be used to improve outcomes of children with lysosomal storage diseases such as cystinosis by early detection and intervention.
Dr. Hahn's method uses dried blood spots (DBS) on filter paper. These samples are routinely collected at birth and processed by state clinical laboratories that perform newborn screening. Dr. Hahn's team have recently published proof-of-concept papers on their method, immuno-selected reaction monitoring (SRM) for screening using DBS. The technique extracts and enzymatically digests proteins from DBS and uses highly specific antibodies to enrich for characteristic peptides that are quantified by mass spectrometry (MS) to arrive at a diagnosis. Using antibodies developed by the researchers to peptides for various conditions, immuno-SRM can be adapted to diagnose 11 primary immunodeficiencies including Adenosine Deaminase (ADA) deficiency.
Dr. Hahn has experience working with industry partners to develop screening assays. He seeks a partner to develop and market a kit that would be an add-on to MS equipment that state clinical laboratories routinely use. The kit would include reagents, antibodies and peptides and for automated processing from DBS to diagnostic results.
Stage of Development
Partnering Opportunities
Collaborative research opportunity
Sponsored research agreement
High throughput screening
Kit Development
Consultation agreement
Clinical Trial
Publications
Learn More