Partnership Opportunities
Diagnosis, Monitoring, and Treatment of Concussion
Using magnetic resonance spectroscopic imaging to assess GABA levels in pediatric concussion patients
Technology Overview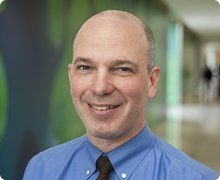 Dr. Jeffrey OjemannOne of Dr. Jeffrey Ojemann's ongoing projects is focused on improving diagnosis and treatment of concussions in pediatric patients. Recovery from concussion in adolescents is variable, and few tools for monitoring recovery are currently available that can be used in making informed decisions on return to activity.
Dr. Ojemann has developed the use of magnetic resonance spectroscopy (MRS) to track γ-aminobutyric acid (GABA) in pediatric concussion patients. A technique related to magnetic resonance imaging (MRI), MRS allows for measurement of neurotransmitter levels in specific regions of the brain. Advances in MRS technology have improved the sensitivity of this technique to become relevant for clinical use. Dr. Ojemann has shown that GABA levels are increased in the frontal lobe of adolescent concussion patients, as compared to uninjured controls. GABA is important for cognitive function, is related to working memory function, and appears to influence recovery from brain injury.
In the future, MR spectroscopy for GABA levels in pediatric concussion patients could be used to address diagnosis, prevention, and treatment. GABA levels could be used to provide new guidelines for the timing of patients' return to activity or determine the efficacy of equipment intended to prevent concussions. As a drug target, modulation of GABA levels could potentially improve treatment.
Dr. Ojemann is interested in working with industry partners on projects to develop new techniques for diagnosis, prevention, and treatment of pediatric concussions. He is interested in refining guidelines for concussion diagnosis using GABA levels and using imaging techniques to determine the pattern of neurotransmitter activity during concussion and recovery. This technology could potentially be used to assess the efficacy of new preventions and treatments for pediatric concussion patients.
Stage of Development
Validation of imaging technology
Partnering Opportunities
Collaborative research and development opportunity
Sponsored research agreement
Publication
Friedman SD, Poliakov AV, Budech C, Shaw DWW, Breiger D, Jinguji T, Krabak B, Coppel D, Lewis TM, Browd S, Ojemann JG. GABA alterations in pediatric sport concussion. Neurology. 2017; 89: 2151-2156.
Learn More