Partnership Opportunities
Pain
Using technology to treat chronic pain in children and adolescents
Technology Overview
Pain represents an immense clinical problem. Millions of people in the U.S. alone suffer from debilitating chronic pain that results in enormous expenditures on healthcare and lost work productivity. In order to advance the field, reduce this burden, and offer hope to the many patients with chronic pain, innovative strategies are needed to improve access to evidence-based pain self-management. Self-management interventions teach the person how to manage the symptoms, and the physical and psychological consequences and lifestyle changes inherent to living with a chronic condition. Studies in pediatric and adult pain patients demonstrate that self-management strategies can lead to reduced symptoms, improved quality of life, and decreased healthcare utilization. Children with chronic pain are a particularly vulnerable population because access to specialized pain care is more limited and evidence shows that childhood pain often persists or reemerges in adulthood, increasing the importance of effectively managing pain symptoms during childhood.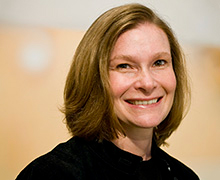 Dr. Tonya Palermo
Dr. Palermo is a pediatric psychologist and a pain researcher. She directs the Pediatric Pain & Sleep Innovations Lab that aims to improve the lives of children with pain and their families through developing, evaluating, and disseminating innovative treatments that can be delivered at low cost. Dr. Palermo has developed and tested web- and mobile-based pain management programs in children with chronic headache, abdominal, and musculoskeletal pain. These pain management programs improve access to evidence-based self-management therapies and can empower children to take an active role in managing their condition by providing in the moment access to coping strategies. Her research on Internet interventions for treating pain in children has been pioneering, and she has recently completed the largest pediatric pain clinical trial of Internet-delivered pain intervention, enrolling almost 300 youth and their parents. Her clinical trial demonstrated positive effects of internet-delivered pain intervention for children and their parents. Dr. Palermo is extending her technology-based programs to other populations including children with sickle cell disease and cancer. She is also developing an insomnia management program. Dr. Palermo is looking for partners to develop or evaluate new technologies to treat physical health symptoms in pediatric patients, and to prevent long-term disability.
Stage of Development
Pre-commercial and commercial
Partnering Opportunities
Collaborative research opportunity
Sponsored research agreement
Consultation agreement
Publications
Palermo TM, Law EF, Fales J, Bromberg MH, Jessen-Fiddick T, Tai G. (2016). Internet-delivered cognitive-behavioral treatment for adolescents with chronic pain and their parents: A randomized controlled multicenter trial. Pain, 157(1): 174-185.
Law, E.F., Beals-Erickson, S.E., Noel, M., Claar, R., Palermo, T.M. (2015). Pilot randomized controlled trial of Internet-delivered cognitive-behavioral treatment for pediatric headache. Headache. 2015 Aug 28 [Epub ahead of print]
Groenewald, C.B., Essner, B., Wright, D., Fesinmeyer, M., Palermo, T.M. (2014). The economic costs of chronic pain among a cohort of treatment seeking adolescents in the United States. Journal of Pain, 15 (9): 925-93.
Learn More
To learn more about partnering with Seattle Children's Research Institute on this or other projects, please contact:
Dr. Elizabeth Aylward, Director
Office of Science-Industry Partnerships
Seattle Children's Research Institute
818 Stewart Street, Suite 603
Seattle, WA 98101
Email
206-884-1065