Partnership Opportunities
Technologies for Improving Pediatric Heart Surgery
Developing a method to fluorescently mark tissue for more accurate cardiac surgery
Technology Overview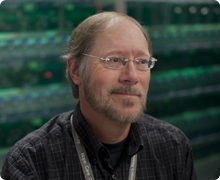 Dr. Mark Majesky
Coarctation of the aorta is a common congenital defect in which the aorta narrows shortly after birth. This condition arises when cells from another blood vessel connected to the aorta, the ductus arteriosis, move into the aortic wall. In utero, the ductus arteriosis routes blood away from the lungs. At birth, cells migrate to close the ductus arteriosis to allow blood to move through the lungs to pick up oxygen. Coarctation occurs when ductal cells incorrectly migrate into the aorta and begin to block it. Surgical treatment is required to remove the obstructed part of the aorta, and complete removal of tissue with ductal cells is critical.
To assist pediatric heart surgeons in identifying all aortic tissue invaded by ductal cells, Dr. Mark Majesky has a research plan to fluorescently label ductal cells to mark them for removal during surgery. This innovative "ductal paint" approach builds on a well-known "tumor paint" strategy to label cancerous cells for resection.
Dr. Majesky has the pediatric cardiovascular biology knowledge and research expertise to support pilot work on developing ductal paint. For example, cell mapping and characterization by his research group is identifying specific vascular cell types and their fates, including a population of arterial stem and progenitor cells.
Because Seattle Children's Hospital is a regional referral center for pediatric heart surgery, including treatment of patients with coarctation of the aorta, Dr. Majesky has access to a variety of heart tissue types. Available tissue samples include normal heart cells and both normally migrating and aberrantly positioned ductal cells. Among other approaches, the Majesky lab is prepared to perform transcriptome profiling to find markers characteristic of ductal cells that could be the basis for a ductal-paint cell-labeling strategy. Dr. Majesky is interested in connecting with industry partners who could facilitate the development of this technology.
Stage of Development
Partnering Opportunities
Collaborative research opportunity
Sponsored research agreement
Consultation agreement
Tissue sample access for high-throughput screening
Publications
Bentzon JF, Majesky MW. Lineage tracking of origin and fate of smooth muscle cells in atherosclerosis. Cardiovasc Res. 2018; 114: 492-500.
Ieronimakis N, Hays AL, Janebodin K, Mahoney WM, Duffield JS, Majesky MW, Reyes M. Coronary adventitial cells are linked to perivascular cardiac fibrosis via TGFβ1 signaling in the mdx mouse model of Duchenne muscular dystrophy. J Mol Cell Cardiol. 2013; 63:122-134.
Majesky MW. Developmental basis of vascular smooth muscle diversity. Arterioscler Thromb Vasc Biol. 2007; 27: 1248-1258.
Learn More