Partnership Opportunities
Treatments for Hemophilia – Immunomodulation Therapy
Immunomodulation therapy to prevent or modulate inhibitory antibody responses in hemophilia patients
Technology Overview
Thirty percent of hemophilia A patients develop inhibitor antibodies against factor VIII following protein replacement therapy. Current tolerance induction protocol involves long-time administration of high doses of factor VIII, which is both inconvenient and costly. One-third of patients fail to induce tolerance using this protocol.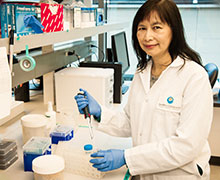 Prophylactic tolerance induction protocols involving a short immunosuppressive regimen with minimum side effects and toxicity are highly promising strategies for patients at high risk. Dr. Carol Miao 's lab has developed several potent immunotherapies to prevent inhibitory antibody production in hemophilia A mice, including agents to block costimulatory pathways such as CTLA4-Ig combined with anti-CD40L, and anti-ICOS, agents to deplete T cells such as anti-CD3, agents to induce Treg cell expansion such as anti-CD3, or agents to induce Treg cell expansion such as IL2-IL2mAb complexes, which can be administered in combination with repeated injections of low doses of FVIII to induce long-term tolerance of FVIII.
Another strategy is to adoptively transfer FVIII-specific regulatory T cells to suppress anti-FVIII responses. These new transient immunosuppression strategies for tolerance induction can not only reduce the costs, but also shorten the treatment time and increase the success rate. Clinical testing of some of these regimens is highly anticipated.
Stage of Development
Pre-clinical in vivo
Pre-clinical in vitro
Partnering Opportunities
Collaborative research opportunity
Sponsored research agreement
Consultation agreement
Publications
Learn More