Partnership Opportunities
Infrared Screening Device for Juvenile Idiopathic Arthritis
Developing a mobile phone-based thermal imaging tool for assessing JIA in primary care and family practice
Technology Overview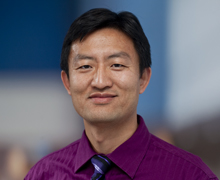 Dr. Yongdong (Dan) Zhao
Juvenile idiopathic arthritis (JIA) is the most common rheumatic disease in children, usually causing pain and inflammation in joints. Diagnosis of JIA can be challenging for pediatricians and family medicine practitioners and can require contrast-enhanced magnetic resonance imaging (often necessitating sedation), especially if an experienced pediatric rheumatologist is not available. The shortage of pediatric rheumatologists and lack of specific screening tools leads to delays in diagnosis and treatment for children with this serious illness. To ensure early diagnosis and prompt referral of children who present in primary care with joint swelling and pain, physicians need a simple but specific tool for detecting JIA.
Dr. Zhao and collaborators are developing infrared thermal imaging as a quick, inexpensive, noninvasive method to screen for and monitor JIA and other inflammatory diseases. This application overcomes the challenges of previous uses of infrared thermal technology to detect arthritis, which were limited by wide temperature variations among individuals. Dr. Zhao and colleagues developed a method and an algorithm for using a patient's mid-tibia as an internal control. Compared to this area of the lower leg, inflamed knee and ankle joints have higher temperatures that can be reliably detected with this algorithm. In pilot studies where inflammation was diagnosed by a joint exam from an experienced rheumatologist along with ultrasound findings, a threshold was set to be used to screen for arthritis.
The technique captures data using a thermal camera that attaches to a mobile phone for point-and-shoot simplicity and the ability to collect data in clinics or at home via a mobile application. A mobile app transmits the data to a cloud service where the algorithm is applied, and the resulting data are displayed in a web portal for further analysis by trained technicians. A standardized, semi-automated protocol for acquiring and analyzing images contributes to the method's sensitivity and specificity.
Having established proof of concept, the Zhao team seeks to improve and further develop infrared thermal imaging as a diagnostic and monitoring tool. Goals of this work include matching patients' thermal imaging data with their clinical data and using artificial intelligence to further improve precision in detecting JIA. These improvements can be paired with telehealth to extend the rheumatologist's reach, which may assist efforts in improving outcomes for all patients. The team hopes to establish a mobile phone-based device for pediatricians and primary care physicians to use for screening, initial diagnosis, and follow-up of JIA and other childhood rheumatic diseases such as chronic recurrent multifocal osteomyelitis (CRMO), also known as chronic nonbacterial osteomyelitis (CNO). Patients and families may also find the device helpful for disease self-monitoring.
Dr. Zhao has expertise in clinical trials and consulting with industry. He is interested in working with industry partners to develop infrared thermal imaging to help physicians in primary care, family medicine, and pediatric clinics to diagnose and monitor diseases such as CRMO/CNO and JIA. Although currently in development for children, an infrared thermal imaging medical device has the potential to be useful for adults with arthritis or other inflammatory diseases.
Stage of Development
Clinical device development
Licensing agreement
Partnering Opportunities
Collaborative research and development
Sponsored research agreement
Consultation agreement
Clinical trials
Investigator-initiated clinical trials
Publications
Zhao Y, Iyer R, Thapa M, Biswas D, Cain K, Partridge S, Wallace C. A novel algorithm to increase sensitivity of detecting active arthritis in children through infrared thermal imaging. Arthritis Care Res, submitted
Zhao Y, Iyer RS, Reichley L, Oron AP, Gove NE, Kitsch AE, Biswas D, Friedman S, Partridge SC, Wallace CA. A pilot study of infrared thermal imaging to detect active bone lesions in children with chronic nonbacterial osteomyelitis. Arthritis Care Res 2019. 71(11):1430-1435. doi: 10.1002/acr.23804
Ting TV, Vega-Fernandez P, Oberle EJ, De Ranieri D, Bukulmez H, Lin C, Moser D, Barrowman NJ, Zhao Y, Benham HM, Tasan L, Thatayatikom A, Roth J; Childhood Arthritis and Rheumatology Research Alliance Juvenile Idiopathic Arthritis Ultrasound Workgroup. Novel ultrasound image acquisition protocol and scoring system for the pediatric knee. Arthritis Care Res 2019. 71(7):977-985. doi: 10.1002/acr.23746
Zhao Y, Rascoff NE, Iyer RS, Thapa M, Reichley L, Oron AP, Wallace CA. Flares of disease in children with clinically inactive juvenile idiopathic arthritis were not correlated with ultrasound findings. J Rheum 2018. 45 (6) 851-857. doi: 10.3899/jrheum.170681
Learn More