Partnership Opportunities
New applications in sarcomas for existing cancer therapies
Identifying pathways in the development of Ewing and other sarcomas that have potential targets for existing drugs
Technology Overview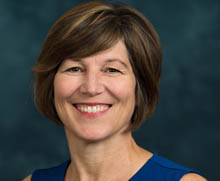 Dr. Elizabeth Lawlor
Ewing sarcoma is a highly malignant cancer of bone and soft tissue. Although rare, it is still the second most common bone malignancy in children and adolescents. Contributors to the disease including oncogenic activity that hijacks normal stem cell programs, disrupts gene regulation through epigenetic mechanisms, and induces cells to develop along a tumorigenic rather than normal developmental path. Current treatment primarily begins with multidrug chemotherapy.
Dr. Elizabeth Lawlor's research in Ewing sarcoma is at the nexus of translation from basic research to clinical applications. Her group focuses on making discoveries about the fundamental biology of Ewing sarcoma that have the potential to advance cancer therapy. The lab is particularly interested in repurposing existing drugs by finding pathways and pathway components that are critical to Ewing sarcoma and amenable to manipulation. The scientists in the Lawlor group are also alert for opportunities to advance the therapeutic science for other solid or blood cancers.
The Lawlor group collaborated on a study that found that small-molecule inhibition of the menin-MLL complex, which epigenetically modifies histones to regulate transcription, reduces Ewing sarcoma cell proliferation and viability in vitro and in vivo. Their investigation into the mechanism of this effect revealed the metabolic pathways most affected by menin-MLL inhibition, highlighting additional opportunities for targeted and synergistic cancer therapies.
The team also studies how the Wnt/beta-catenin signaling pathway that is critical for gene expression in development is dysregulated in Ewing sarcoma cells in a way that promotes metastasis. Using primary cells from patient tumors, Dr. Lawlor and colleagues identified genes and pathways involved in this effect, providing a biological rationale for testing targets in angiogenesis and the tumor microenvironment to reduce metastasis of Ewing and other sarcomas.
In addition to her Seattle Children's Research Institute appointment, Dr. Lawlor is affiliated with the University of Washington and Fred Hutchinson Cancer Center, which has a strong history of sarcoma research. Her lab has experience with in vitro studies including tissue microarray assays with primary cells from patient tumors. They have expertise in drug testing using mouse xenograft models of sarcomas.
Dr. Lawlor has worked with biotech startup companies. She is interested in working with industry partners on using basic biological findings to identify new applications for existing drugs to improve treatment for Ewing sarcoma and other cancers.
Stage of Development
Pre-clinical in vitro
Pre-clinical in vivo
Partnering Opportunities
Collaborative research and development
Sponsored research agreement
Consultation agreement
Tissue sample access
Animal model access and expertise
Publications
Learn More