Partnership Opportunities
A Global Resource for Research and Clinical Trials on Childhood Rheumatic Diseases
Research network to study chronic recurrent multifocal osteomyelitis (CRMO) and other childhood rheumatic diseases
Technology Overview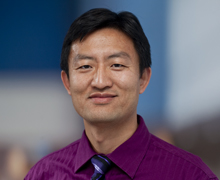 Dr. Yongdong (Dan) Zhao
The rare disease chronic recurrent multifocal osteomyelitis (CRMO), also known as chronic nonbacterial osteomyelitis (CNO), causes pain and destruction of bones. As many as 20 in 1 million children have CRMO/CNO. The cause of this inflammatory bone disease is unknown but may be multifactorial. Some treatments are effective, but about 20% of patients experience side effects that are serious enough to halt treatment, including psoriasis from biologicals.
Dr. Zhao is working to develop standardized, comprehensive, reliable tools for diagnosing, treating, and monitoring the response to therapy for CRMO/CNO. His research includes identification of existing or new drugs that are effective against CRMO/CNO and do not have the major side effects of current treatments. Dr. Zhao is interested in advancing this work by connecting industry partners with CARRA, the Childhood Arthritis and Rheumatology Research Association. CARRA is an international network of rheumatologists and scientists that promotes research in collaboration with patient and parent partners to prevent, treat, and cure pediatric rheumatic diseases. CARRA funds some of Dr. Zhao's research, including studies on treatments and side effects of therapies for juvenile idiopathic arthritis. As a leader of the CARRA Research workgroup on CRMO/CNO, Dr. Zhao contributed to the development of a treatment plan for this disorder, as well as to the development of a consensus imaging scoring tool. Seattle Children's Hospital is the coordinating center for two international studies, one of which was funded by American College of Rheumatology for the development of classification criteria.
For industry partners, Dr. Zhao's team offers resources for discovery research including access to a biobank of 500+ patient whole blood samples, 200+ urine samples, and 150+ DNA samples, as well as blood RNA, longitudinal whole body magnetic resonance imaging (MRI), and some stool samples. Biological samples are matched to clinical data collected according to validated, systematic protocols. In his clinic, there are 50 new cases every year and more than 150 patients receiving regular care.
Dr. Zhao has expertise in clinical trials. He is interested in partnering with industry collaborators to develop diagnostic, treatment, and therapeutic monitoring innovations for childhood rheumatic diseases, particularly CRMO/CNO.
Stage of Development
Clinical trial development
Biomarker and drug discovery, testing, and development
Partnering Opportunities
Collaborative research and development
Sponsored research agreement
Consultation agreement
Patient sample access
Clinical data access
Clinical trials
Investigator-initiated clinical trials
Publications
Perkins A, Stevens AM, Ferguson PJ, Zhao Y. Urinary N-telopeptide as a biomarker of disease activity in patients with chronic nonbacterial osteomyelitis who have not received bisphosphonates. J Rheumatol, accepted for publication
Gaal A, Basiaga ML, Zhao Y, Egbert M. Pediatric chronic nonbacterial osteomyelitis of the mandible: Seattle Children's Hospital 22-patient experience. Pediatr Rheumatol Online J 2020. 18(1): 4. doi: 10.1186?s12969-019-0384-8
Zhao Y, Sato TS, Nielsen SM, Beer M, Huang M, Iyer RS, McGuire M, Ngo AV, Otjen JP, Panwar J, Stimec J, Thapa M, Toma P, Taneja A, Gove NE, Ferguson PJ. Development of a scoring tool for chronic nonbacterial osteomyelitis magnetic resonance imaging and evaluation of its interrater reliability. J Rheumatol 2020. 47(5):739-747. doi: 10.3899/jrheum.190186.
Zhao Y, Wu EY, Oliver MS, et al. Consensus treatment plans for chronic nonbacterial osteomyelitis refractory to nonsteroidal antiinflammatory drugs and/or with active spinal lesions. Arthritis Care Res 2018. 70(8):1228-1237. doi:10.1002/acr.23462
Oliver M, Lee TC, Halpern-Felsher B, Schwartz R, Zhao Y, CARRA SVARD CRMO/CNO workgroup. Disease burden and social impact of pediatric chronic nonbacterial osteomyelitis from the patient and family perspective. Pediatr Rheumatol Online J. 2018.;16(1):78. doi:10.1186/s12969-018-0294-1
Learn More