Partnership Opportunities
Neurotoxicity in Pediatric Cancer Treatment
Understanding neurologic complications of CAR T-cell therapy in pediatric cancer
Technology Overview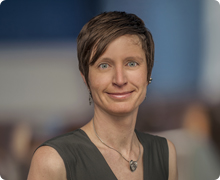 Dr. Juliane Gust
Dr. Juliane Gust's research is focused on reducing pediatric neurologic disease and neurotoxicity side effects in pediatric cancer treatment. Neurologic complications are particularly common in chimeric antigen receptor (CAR) T-cell treatments. CAR T-cell therapy utilizes the patient's own immune cells, engineered to express an antigen receptor for tumor cells. CAR T-cells increase the immune response against the tumor. Although patients have shown dramatic recovery in response to CAR T-cell therapy, it is estimated that 40-50% experience neurotoxicity symptoms. These symptoms, including brain swelling, seizures, coma, and delirium, range in severity from mild to potentially fatal. To become a widely utilized therapy for cancer, neurotoxic side effects of CAR T-cells must be reduced. Dr. Gust is seeking to understand why neurotoxicity occurs during CAR T-cell therapy, the long-term effects of neurotoxicity, and the connections between systemic inflammation and brain inflammation.
Dr. Gust has developed protocols for neurologic exams in clinical trials for the use of CAR T-cell therapy in pediatric cancer. Neurologic exams and monitoring at specific time points in the structure of a clinical trial, including MRI, sampling cerebrospinal fluid, and cytokine profiling, allow Dr. Gust to track and characterize neurotoxicity during all stages of treatment, as well as during acute toxicity. These tests and diagnostic measures may allow the development of new prognostic indicators of neurotoxicity during treatment and provide guidelines for monitoring patients to help prevent neurologic complications.
Additionally, Dr. Gust is currently developing animal models for neurotoxicity in CAR T-cell treatment. To examine the effect of CAR T-cells on systemic inflammation and brain inflammation, Dr. Gust is using a mouse model with mouse CAR T-cells and following the development of neurotoxicity symptoms. These animal models may provide more detailed information on the interaction of CAR T-cells with the nervous system and brain inflammation.
Dr. Gust is interested in projects with industry partners that are related to pediatric neurotoxicity and neurologic disease. Along with her work in the neurotoxicity side effects of CAR T-cells, she is also interested in neurotoxicity of other pediatric cancer treatments and new therapies for pediatric brain tumors.
Stage of Development
Pre-clinical in vivo
Pre-clinical in vitro
Pre-clinical ex vivo
Partnering Opportunities
Collaborative research opportunity
Sponsored research agreement
Consultation agreement
High throughput screening
Publications
Learn More