Partnership Opportunities
Treatments for Hemophilia – Gene Therapy
Ultrasound-mediated gene delivery for hemophilia treatment
Technology Overview
Although viral gene therapy had success in animal models in recent clinical trials, many obstacles remain. Previously, Dr. Carol Miao's team demonstrated that the ultrasound (US)-mediated gene therapy method can significantly enhance reporter gene transfer into the mouse and rat livers. This nonviral gene-transfer strategy can bypass many obstacles encountered by viral gene therapy. Most significantly, we have recently achieved therapeutic levels of factor VIII (FVIII) following US-mediated gene delivery into hemophilia A mice.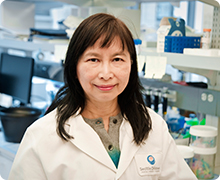 In order to facilitate the eventual translation of these technologies into human application, we have developed ultrasound systems and new generations of transducers to successfully apply ultrasound technology for treating large tissue volumes in large animal models, including dog and pigs.
Recently, we have also synthesized and screened for the best custom-made, targeted microbubbles to further improve gene-transfer efficiency.
These projects will facilitate the translation of this novel technology into human application, and could change fundamentally the way hemophilia patients are treated, with better patient outcomes. We would like to explore the possibility of clinical trials using this new technology.
Stage of Development
Pre-clinical in vivo
Pre-clinical in vitro
Partnering Opportunities
Collaborative research opportunity
Sponsored research agreement
Consultation agreement
Publications
Learn More