Partnership Opportunities
Epidemiology of Healthcare Associated Infections
Using metagenomics Next Generation Sequencing (mNGS) to track outbreaks of healthcare associated infections
Technology Overview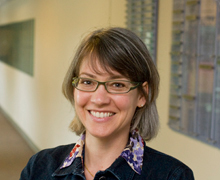 Dr. Danielle ZerrAs the Medical Director for Infection Prevention at Seattle Children's Hospital, Dr. Zerr is interested in the epidemiology of healthcare associated infections. Often related to surgical procedures or the use of medical devices, healthcare associated infections include a broad range of pathogens: viruses, drug-resistant bacteria, and fungal infections. Prevention of healthcare associated infections is important for successful treatment of all patients, but it is particularly important for patients undergoing immune suppression as a part of their treatment. Dr. Zerr's research has focused mainly on the epidemiology and prevention of drug-resistant bacterial infections.
Dr. Zerr was the leader of a multicenter study across four children's hospitals to define the epidemiology and molecular epidemiology of drug resistant enterobacteriaceae, such as E. coli and K. pneumoniae. She is currently in the analysis phase of a study through the Children's Oncology Group to determine if the use of antiseptic soap is effective in preventing blood stream infections and other drug resistant infections in pediatrics.
Although high-throughput techniques are not as frequently used in the setting of healthcare associated infections, Dr. Zerr and her collaborators are using metagenomics Next Generation Sequencing (mNGS) to track outbreaks. mNGS techniques allow researchers to directly sequence microbial genomes from environmental or tissue samples, rather than through cultures of pathogens. In a study of respiratory virus transmission, mNGS was used to rapidly determine the epidemiology of the spread of the virus.
Dr. Zerr is interested in projects with industry partners that would explore strategies to detect and prevent healthcare associated infections. Dr. Zerr would potentially be interested in partners with projects in a range of stages: early phase companies through possible clinical trial partnerships. Among others, these projects might include strategies for decontamination or novel medical devices to prevent the spread of infection in healthcare settings, leading to better outcomes for patients.
Stage of Development
Partnering Opportunities
Collaborative research opportunity
Sponsored research agreement
Consultation agreement
Tissue sample access and bacterial isolates
Clinical trials
Environmental decontamination studies
Publications
Learn More