Partnership Opportunities
New Approaches to Tuberculosis Treatment
Designing vaccines and therapies with a novel mouse model
Technology Overview
Tuberculosis (TB) kills more than 1 million people worldwide every year. The bacille Calmette-Guerin (BCG) vaccine against tuberculosis has variable effectiveness and does not provide long-term protection. Dr. Urdahl works on rationally designing vaccines that elicit better protective responses. He is also interested in developing immunotherapies or adjuvant immunotherapies for treating TB infections.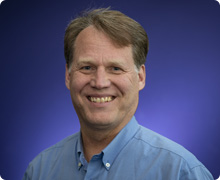 Dr. Kevin Urdahl
To understand barriers to TB immunity in humans, the Urdahl group developed an ultra-low dose (ULD) infection model in mice. Using a bacterial dose that reflects the physiologic infectious dose of human infection, the team has developed a new tractable model for TB studies that more accurately reflects the human disease course than other models. Similar to humans, the ULD-infected mouse model shows heterogeneity, with a wide range of infection outcomes. The mice also show features in the blood and lungs that resemble human responses to TB infection. For example, ULD-infected mice generate granulomas, which are lesions of Mycobacterium tuberculosis and inflammatory cells. The mouse granulomas have structures and immune cell compositions similar to humans.
The Urdahl group, in collaboration with Dr. Michael Gerner at the University of Washington, is using advanced confocal microscopy to examine mouse, non-human primate, and human granulomas to identify and characterize the interactions of immune cells associated with these structures. For example, they found that although T cells appear within granulomas, they do not respond appropriately, (e.g., by producing interferon-γ).Using the ULD-infection model, Dr. Urdahl and collaborators also identified a blood RNA signature that predicts human TB disease progression at least as well as a previously identified human blood RNA signature, validating the relevance of this new model for studying human TB disease. This signature and granuloma T-cell profiles associated with failure to control infection have potential as TB prognostic biomarkers. Early findings about the mouse granulomas also suggest restricted immunity in these structures, possibly similar to the tumor microenvironment. These results suggest that compounds developed for cancer immunotherapies could potentially treat TB. For example, they found that TGFβ plays a key role in restricting immunity by suppressing T cell production of interferon-γ at this site. Comparing transcriptome data for mice that differ in their early response to infection may identify potential new vaccine and therapeutic targets.
The Urdahl group has also used the mouse model to test vaccine effectiveness over time and for comparative effectiveness studies of new vaccine candidates relative to the BCG vaccine. Dr. Urdahl is interested in using the ULD-infection mice in partnerships to develop and test new TB vaccines and therapies.
Stage of Development
Partnering Opportunities
Collaborative research opportunity
Sponsored research agreement
Consultation agreement
Mouse model
Publications
Cohen SB, Gern BH, Delahaye JL, Adams KN, Plumlee CR....Urdahl KB. Alveolar macrophages provide an early Mycobacterium tuberculosis niche and initiate dissemination. Cell Host Microbe. 2018;24:439-446.
Lindenstrøm T, Moguche A, Damborg M, Agger EM, Urdahl K, Andersen P. T Cells primed by live mycobacteria versus a tuberculosis subunit vaccine exhibit distinct functional properties. EBioMedicine. 2018;27:27-39.
Moguche AO, Musvosvi M, Penn-Nicholson A, Plumlee CR....Urdahl KB. Antigen availability shapes T cell differentiation and function during tuberculosis. Cell Host Microbe. 2017;21:695-706
Abstracts
Gern B, Plumlee C, Gerner M, Urdahl K. Investigating immune correlates of protection to tuberculosis using an ultra-low dose infection in a mouse model. Open Forum Infect Dis. 2017; 4:S47–S48.
Gern BH, Plumlee CR, Gerner MY, Urdahl KB. T cell IFNγ production is restricted within pulmonary tuberculosis granulomas. J Immunol. 2018; 200 (1 Supplement):117.42.
Learn More