Partnership Opportunities
Therapies for Treatment-Resistant Childhood Common Obesity and Hypothalamic Obesity
Developing and clinically testing new receptor agonists for weight and blood glucose control
Technology Overview
Current medicines for obesity and type 2 diabetes (T2D) mainly target single receptors. Examples include GLP-1 receptor agonists such as semaglutide. Side effects of these drugs include nausea, vomiting, and diarrhea that are sometimes severe enough that patients, particularly children, must stop treatment. In addition, single-target medications have limited effects because obesity and T2D are influenced by multiple pathways that regulate appetite, blood glucose, and energy balance.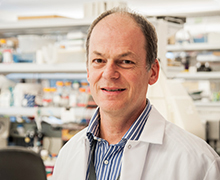 Dr. Christian Roth
Dr. Roth identifies and tests new medications for obesity and T2D, including in clinical trials (ClinicalTrials.gov: NCT02664441, NCT04520490). His group studies drugs that are single-molecule peptides that bind several different receptors. Using in vitro assays, studies with animal models, and human and animal ex vivo tissues, Dr. Roth and colleagues found that these chimeric peptides are more potent than currently used drugs for controlling appetite, losing weight, and regulating blood glucose. In animal models, these peptides cause fewer side effects than the well-described GLP-1 receptor agonists exendin-4 and liraglutide.
One of the drugs, GEP-44, is a triple-agonist peptide that binds the GLP-1 receptor and the neuropeptide Y1 and Y2 receptors. The peptide was designed based on evidence showing changed levels of GLP-1 and peptide YY after obesity surgery. The combined multiagonist effects of GEP-44 include stimulation of the insulin secretion rate in pancreatic islets and Y1-R agonism that results in insulin-independent glucose uptake into muscle — importantly, only at elevated glucose levels. The resulting reductions in blood glucose and appetite and increases in glucose uptake by muscle lead to significant weight loss and improved blood glucose regulation.
In related studies, Dr. Roth's group is testing analogs of the peptide hormone oxytocin, modified for in vivo stability, for effectiveness in reducing body weight. In animal models, oxytocin reduces food intake and increases energy expenditure. Using a rat obesity model, Dr. Roth and colleagues showed that administration of the oxytocin analog ASK2131 led to significant weight loss while control animals maintained or gained weight. A promising feature of oxytocin analogs, especially for administration to children, is effective intranasal delivery that avoids the need for injections.
In a Phase II randomized clinical trial, Dr. Roth and colleagues found that a peptide drug that already has U.S. FDA approval to treat obesity from rare genetic disorders is effective for a more common form of obesity. People with hypothalamic injury, often from surgery or radiation treatment for brain cancer, can have hypothalamic obesity. Dr. Roth was principal investigator in a trial showing that setmelanotide, a melanocortin-4 receptor agonist, significantly reduces body mass index and self-reported hunger in patients with hypothalamic obesity. Phase III clinical trials are in the planning stage and setmelanotide has FDA breakthrough therapy designation for patients with hypothalamic obesity. For this work, Dr. Roth worked in partnership with Rhythm Pharmaceuticals.
Dr. Roth also conducts clinical trials on the effectiveness of combining pharmacotherapy with behavioral therapy to treat childhood obesity. His group has expertise in using imaging including fMRI to monitor the human brain satiety response to candidate medications for quickly identifying the best candidates and learning their mechanisms. Dr. Roth is interested in industry partnerships to extend these preclinical and clinical-stage programs in advancing peptide drugs for obesity and T2D.
Stage of Development
Preclinical in vivo
Preclinical ex vivo
Clinical trials
Partnering Opportunities
Collaborative research opportunity
Sponsored research agreement
Consultation agreement
Long-term, contracted consultation agreement
Clinical trials
Publications
Learn More