Partnership Opportunities
Obesity
Testing Novel Pathways for Obesity Drugs
Technology Overview
We are seeking novel antiobesity drugs with increased efficacy and safety. The most striking examples of treatment-resistant childhood obesity are observed in patients with dysfunctional hypothalamic signaling, such as in Prader-Willi-Syndrome (PWS), hypothalamic obesity (HO) due to craniopharyngioma, or in subjects with deficient melanocortin signaling, leading to hyperphagia and excessive weight gain. Current genetic PWS rodent models display a limited number of PWS features. Most monogenic causes of obesity are rare and do not represent the vast majority of obese patients, except for melanocortin-4-receptor mutations, that are found in 2-7% of patients with early onset severe obesity.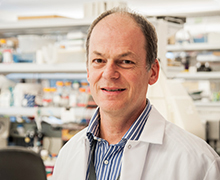 Dr. Christian Roth
Our group has developed an innovative rat model of combined medial hypo-thalamic lesions that best mimics metabolic changes characteristic of HO and that are related to leptin resistance, melanocortin deficiency, and inflammation. In this model, hyperphagia and postsurgical weight gain are associated with decreased hypothalamic mRNA levels of anorexic peptides, but increased number of microglia and stimulation of the nuclear factor kappa B pathway in the mediobasal hypothalamus. Due to the hypothalamic lesion, this is a model for disturbed hypothalamic signaling but intact hindbrain satiety signaling pathways.
We are currently testing potential body weight-reducing agents, including endogenous peptides and their analogs to restore deficient signaling due to disturbed hypothalamic mechanisms. Another area of interest is to test the effects of anti-inflammatory drugs on metabolic parameters and biomarkers in rodent models of obesity. In most current experiments, drugs are delivered in a pulsatile manner by surgically implanted micro-infusion pumps and metabolic cages are used for the continuous measurement of food intake, body weight, body temperature, and activity. This method of treatment administration is less stressful on the animal than tethering or injections, minimizing a significant confounding factor to the data.
We are interested in collaborating with industry partners to help test new obesity interventions in both pre-clinical and clinical trial settings. Recent clinical work has focused on validating behavioral therapies through use of functional magnetic resonance neuroimaging (fMRI) to monitor satiety responses in different brain areas. In addition, in a different clinical project we plan to investigate the use of probiotics to manage healthy metabolism and prevent the development of type 2 diabetes in obese children.
Stage of Development
Pre-clinical in vivo
Clinical trial
Partnering Opportunities
Collaborative research opportunity
Sponsored research agreement
Consultation agreement
Tissue sample access
Clinical trial
Publications
Learn More
To learn more about partnering with Seattle Children's Research Institute on this or other projects, please contact:
Dr. Elizabeth Aylward, Director
Office of Science-Industry Partnerships
Seattle Children's Research Institute
818 Stewart Street, Suite 603
Seattle, WA 98101
Email
206-884-1065