Partnership Opportunities
Epidemiology of Human Herpesvirus-6 (HHV-6)
Understanding primary and reactivated HHV-6 to prevent acute graft vs. host disease
Technology Overview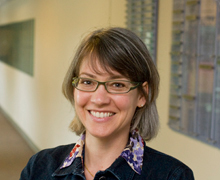 Dr. Danielle ZerrIn addition to work in healthcare associated infections, Dr. Zerr's research is focused on the epidemiology of Human Herpesvirus-6B (HHV-6B). HHV-6B is very common – it infects 90-100% of the population in early childhood. In a primary infection, it produces mild symptoms, such as a mild fever and rash. HHV-6B subsequently establishes a latent infection in hematopoietic cells. Although most children do not experience any further complications from the virus, many patients with a weakened immune system can experience viral reactivation. This reactivation occurs in ~40% of hematopoietic cell transplant patients, as well as in a portion of solid organ transplant recipients. HHV-6B is the most common cause of encephalitis after hematopoietic cell transplantation and is associated with higher rates of acute graft versus host disease (aGVHD) , additional viral infections, and other poor outcomes, including mortality. Dr. Zerr is working to establish the epidemiology of HHV-6B reactivation in order ultimately to prevent aGVHD and other poor outcomes in hematopoietic cell transplant recipients.
Past studies have linked the presence of the virus in blood samples with the development of aGVHD. Dr. Zerr has also led studies linking HHV-6B with symptoms of central nervous system (CNS) dysfunction after hematopoietic cell transplant. Ongoing projects are centered on accurate diagnostic tests for HHV-6B and determining whether the virus is present at the site of aGVHD in tissues. The goal of this work is to determine whether there is a causal link between HHV-6B and aGVHD in hematopoietic cell transplant patients. In the future, the use of antiviral drugs to prevent or treat HHV-6B reactivation in stem cell transplant patients might decrease aGVHD and other poor outcomes.
Dr. Zerr is interested in projects with industry partners that are related to the epidemiology, prevention, diagnosis, or biomarkers of HHV-6B. She is particularly interested in projects related to reactivation of the virus in the context of immunosuppression and hematopoietic cell transplant.
Stage of Development
Partnering Opportunities
Sponsored research agreement
Consultation agreement
Tissue sample access and bacterial isolates
Clinical trials
Publications
Hill JA, Magaret AS, Hall-Sedlak R, Mikhaylova A, Huang ML, Sandmaier BM, Hansen JA, Jerome KR, Zerr DM, Boeckh M. Outcomes of hematopoietic cell transplantation using donors or recipients with inherited chromosomally integrated HHV-6. Blood. 2017; 130:1062-1069.
Zerr DM, Boeckh M, Delaney C, Martin PJ, Xie H, Adler AL, Huang ML, Corey L, Leisenring WM. HHV-6 reactivation and associated sequelae after hematopoietic cell transplantation. Biol Blood Marrow Transplant. 2012; 18:1700-8.
Zerr DM, Fann JR, Breiger D, Boeckh M, Adler AL, Xie H, Delaney C, Huang ML, Corey L, Leisenring WM. HHV-6 reactivation and its effect on delirium and cognitive functioning in hematopoietic cell transplantation recipients. Blood. 2011; 117:5243-9.
Learn More