Partnership Opportunities
Food Insecurity and Chronic Disease Management
Understanding the role that poor nutrition caused by food insecurity has on children living with type 1 diabetes or HIV
Technology Overview
Food insecurity is a global issue that has profound implications for individuals of all ages. Recent figures indicate that in the US alone, 19.2% of households with children experienced some level of food insecurity, accounting for more than 7.9 million children living in food-insecure environments. Not only are there severe implications for otherwise healthy children in food insecure homes, including potential problems in physical and cognitive development, but chronic diseases can be significantly exacerbated as a result of poor nutrition as well.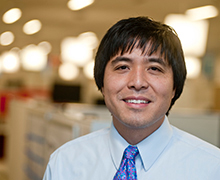 Dr. Jason Mendoza
Dr. Mendoza and his team lead global health research on the influence of household food insecurity on HIV-positive children in the United States and sub-Saharan Africa. One of the most pressing issues related to food insecurity and HIV management is lack of anti-retroviral drug adherence that has been seen in patients who do not have consistent access to adequate nutrition. Dr. Mendoza and his team have drawn direct and measureable links between the systemic decrease in CD4 counts and food insecure patients, allowing a deeper understanding of how this chronic disease can be effectively managed.
Dr. Mendoza also co-leads research examining household food insecurity among U.S. adolescents and young adults with diabetes. It is well understood that both type 1 and type 2-diabetes are best managed through monitored and consistent dietary patterns, and food insecurity can greatly compromise treatment efforts.
For ongoing work in this field, there is interest in partnering with companies to develop guidelines for best nutritional practices aimed at optimizing therapeutic effectiveness, especially in children living with food insecurity.
Stage of Development
Pre-clinical and clinical
Partnering Opportunities
Collaborative research opportunity
Sponsored research agreement
Consultation agreement
App development
Publications
Mendoza JA, Matshaba M, Makhanda J, Liu Y, Boitshwarelo M, Anabwani GM. Food insecurity and CD4% Among HIV+ children in Gaborone, Botswana. J Acquir Immune Defic Syndr. 2014 Aug 1;66(4):414-8.
Mendoza JA, Paul ME, Schwarzwald H, Liu Y, Martinez R, Nicklas TA, Baranowski T. Food insecurity, CD4 counts, and incomplete viral suppression among HIV+ patients from Texas Children's Hospital: a pilot study. AIDS Behav. 2013 Jun;17(5):1683-7.
Learn More