Partnership Opportunities
Stroke
Understanding the genetic causes and treatment options of pediatric stroke patients and developing improved prognostic biomarkers
Technology Overview
A frequent shortcoming in pediatric medicine is the off-label use of interventions originally developed for and tested on adult patients without further clinical validation in children. This is repeatedly seen in the treatment of pediatric stroke. Furthermore, the onset of pediatric stroke frequently involves different pathologies than those seen in adults, requiring special considerations for managing ongoing morbidities and treatments.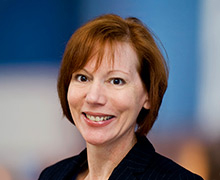 Dr. Catherine Amlie-Lefond
Dr. Amlie-Lefond is the Director of the Pediatric Vascular Neurology Program at Seattle Children's Hospital, and specializes in treating patients with rare disorders that lead to childhood stroke. Dr. Amlie-Lefond treats children with arterial ischemic stroke, Moyamoya and other cerebral arteriopathies, neurovascular cutaneous disorders such as Sturge-Weber syndrome, intracranial vascular malformations, as well as other neurovascular diseases.
A common cause of pediatric stroke onset is the development of abnormal brain vasculature ("cerebral arteriopathy") that can lead to repeated stroke occurrence. The development of optimal strategies to diagnose and manage cerebral arteriopathies is an area of intense study in pediatric stroke. Through her direct clinical experience with children with stroke and other neurovascular disorders, Dr. Amlie-Lefond is well positioned to collect and analyze patient data to better understand the underlying causes of pediatric stroke and to identify factors that are associated with increased stroke risk within specific rare diseases. Furthermore, clinical findings have demonstrated that children may recover unexpectedly well when compared to adults in some cases. Understanding these clinical successes in children could potentially offer insights into prognosis and potential response to specific therapeutics.
Dr. Amlie-Lefond is interested in collaborating with partners to develop pediatric-specific biomarkers to identify subsets of patients with the greatest risk for stroke, to predict disease course, and to direct treatment response. She is also interested in studies assessing the safety and efficacy of acute stroke treatment for adults in the pediatric population. Given her clinical and research expertise, Dr. Amlie-Lefond in an excellent position to collaborate at numerous stages of clinical development.
Stage of Development
Clinical trial
Biomarker investigation
Partnering Opportunities
Collaborative research opportunity
Development opportunity
Sponsored research agreement
Consultation agreement
Publications
Lockrow JP, Wright JN, Saneto RP, Amlie-Lefond C. Epileptic spasms predict poor epilepsy outcomes after perinatal stroke. J Child Neurol. 2019 Jul 24:883073819863278. doi: 10.1177/0883073819863278. [Epub ahead of print] PubMed PMID: 31339419.
Barry M, Hallam DK, Bernard TJ, Amlie-Lefond C. What is the role of mechanical thrombectomy in childhood stroke? Pediatr Neurol. 2019 Jun;95:19-25. doi: 10.1016/j.pediatrneurol.2019.01.009. Epub 2019 Jan 17. Review. PubMed PMID: 30795888.
Bernard T, Rivkin M, Scholz K, … Amlie-Lefond C. Emergence of the primary pediatric stroke center: impact of the thrombolysis in pediatric stroke trial. Stroke. 2014;45(7):2018-2023.
Bernard T, Friedman N, Stence N, … Amlie-Lefond C. Preparing for a "Pediatric Stroke Alert". Pediatric Neurology. 2016;56:18-24.
Rivkin M, Bernard T, Dowling M, Amlie-Lefond C. Guidelines for urgent management of stroke in children. Pediatric Neurology. 2016;56:8-17.
Amlie-Lefond C, Rivkin M, Friedman N, Bernard T, Dowling M, deVeber G. The way forward: challenges and opportunities in pediatric stroke. Pediatric Neurology. 2016;56:3-7.
Learn More
To learn more about partnering with Seattle Children's Research Institute on this or other projects, please contact:
Dr. Elizabeth Aylward, Director
Office of Science-Industry Partnerships
Seattle Children's Research Institute
818 Stewart Street, Suite 603
Seattle, WA 98101
Email
206-884-1065