Partnership Opportunities
Therapeutic Strategies Against MRSA Infections
Identification of kinase inhibitors that increase the beta-lactam sensitivity of MRSA
Technology Overview
Staphylococcus aureus are the leading cause of recurrent and invasive infections, including pneumonia, bacteremia, meningitis, arthritis, endocarditis, toxic shock syndrome and sepsis, in humans. Although antibiotic therapy is currently used to treat S. aureus infections, the emergence of antibiotic resistant strains is a growing concern. Of particular concern is the emergence of methicillin-resistant S. aureus strains (MRSA), which have developed resistance to the Beta-lactam antibiotics and the cephalosporins. While these infections are commonly treated with non-Beta-lactam antibiotics, intensive research is focused on developing effective alternative therapeutic strategies for MRSA infections.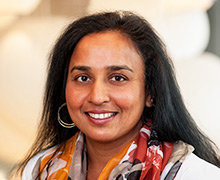 Dr. Lakshmi Rajagopal
Recently, MRSA strains deficient in expression of a serine/threonine kinase (Stk1 or PknB) were reported to exhibit increased sensitivity to Beta-lactam antibiotics. Based on this finding, the Rajagopal laboratory screened a kinase inhibitor library with the goal of identifying compounds that increased the sensitivity of MRSA to Beta-lactam antibiotics. Dr. Rajagopal identified four sulfonamide kinase inhibitors (ST085384, ST085404, ST085405, and ST085399) that increased the sensitivity of MRSA to Beta-lactams in vitro. Of particular importance with respect to developing a clinically useful therapeutic, these inhibitors lacked alerting structures commonly associated with toxic effects and toxicity was not observed with two of these inhibitors in an in vivo murine model. These findings support the possibility that these kinase inhibitors may provide an avenue for the development of alternative therapeutic strategies for treating MRSA infections.
Dr. Rajagopal would be interested in industry collaborations which would allow her to perform additional studies to define the mode of interaction of these inhibitors. Additionally, collaborations that support the development of efficacious and safe inhibitors, such as evaluating the in vivo efficacy of the inhibitors and pharmacokinetic studies beyond the capacity of the Rajagopal lab, would be of interest to Dr. Rajagopal.
Stage of Development
Pre-clinical in vitro
Pre-clinical in vivo
Partnering Opportunities
Collaborative research opportunity
Sponsored research agreement
Consultation agreement
Publications
Vornhagen J, Burnside K, Whidbey C, Berry J, Qin X, Rajagopal L. Kinase Inhibitors that Increase the Sensitivity of Methicillin Resistant Staphylococcus aureus to β-Lactam Antibiotics. Pathogens. 2015;4(4):708-721.
Burnside K, Lembo A, Harrell M, Klein J, Lopez-Guisa J, Siegesmund A, Torgerson T, Oukka M, Molina D, Rajagopal L. Vaccination With a UV-Irradiated Genetically Attenuated Mutant of Staphylococcus aureus Provides Protection Against Subsequent Systemic Infection. Journal of Infectious Diseases. 2012;206(11):1734-1744.
Qin X, Poon B, Kwong J, Niles D, Schmidt B, Rajagopal L, Gantt S. Two paediatric cases of skin and soft-tissue infections due to clindamycin-resistant Staphylococcus aureus carrying a plasmid-encoded vga(A) allelic variant for a putative efflux pump. International Journal of Antimicrobial Agents. 2011;38(1):81-83.
Learn More