Partnership Opportunities
Precision Medicine for Vascular Malformations and Other Birth Defects
Developing minimally invasive genetic tests for vascular malformations and other non-neoplastic pediatric disorders
Technology Overview
Vascular malformations consist of disorganized and dilated blood and/or lymphatic vessels and are frequently caused by mutations in genes – such as PI3KCA, MAP2K1, TEK, BRAF, and KRAS – that are currently being targeted by existing anticancer drugs. Mutations that cause vascular malformations often arise during early human development and are not present in every cell in the body. The mosaic nature of these mutations means that traditional, blood-based genetic testing cannot identify disease-causing mutations and this identification is required to enroll patients in clinical drug trials. Many patients must wait until surgery to obtain a specific, tissue-based diagnosis –which can be challenging in infants and children.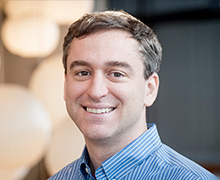 Dr. James Bennett
Dr. Bennett has developed a sensitive, inexpensive, high-throughput, noninvasive test that detects specific vascular malformation-causing mutations without the need for invasive surgery or biopsy. This test is based on the presence of disease-causing mutations in cell-free DNA (cfDNA), and is being applied to vascular malformations and other pediatric conditions caused by mosaic mutations.
Dr. Bennett, a clinical geneticist and a co-director of the Seattle Children's Hospital Molecular Genetics laboratory, collaborates closely with Dr. Jonathan Perkins, Clinic Chief of Otolaryngology and director of the Vascular Anomalies program at Seattle Children's. Their goal is to improve the diagnosis, understanding, and management of children with vascular malformations and tumors. They contributed to the discovery of mutations that cause vascular malformations, including PI3KCA, and are involved in examining the efficacy of drugs, such as alpelisib from Novartis and miransertib from Arqule (now Merck), on treatment of pediatric vascular malformations.
Currently available technologies include tissue, blood, and cfDNA-based testing of vascular anomalies in both research and CLIA environments. Applications include: 1) identifying mutations associated with vascular malformations that could be targets for small compound drugs or other therapies; 2) providing noninvasive diagnosis for treatment planning or eligibility for a clinical trial; and 3) using cfDNA tests as a potential biomarker for rapid monitoring of response to treatment.
As co-director of the molecular genetics laboratory, Dr. Bennett developed "VANseq," a CLIA-certified molecular test that processes samples from across the United States and internationally.
Dr. Bennett is interested in industry partnerships to develop liquid-biopsy cfDNA genetic testing for diagnosis, treatment, treatment effectiveness, and therapeutic discovery for noncancer, mosaic, pediatric conditions.
Stage of Development
Pre-clinical in vitro
Pre-clinical ex vivo
Partnering Opportunities
Collaborative research opportunity
High-throughput genetic testing development
Sponsored research agreement
Consultation agreement
Tissue sample access
Publications
Learn More