Partnership Opportunities
Understanding Mosaic Mutations for Congenital Disorders
Using Next Generation Sequencing to identify the genetic profiles of tissue specific mosaic mutations
Technology Overview
The majority of genetic testing in humans is performed on DNA derived from blood samples and relies on the assumption that the genomes of blood cells are identical to the genomes of every other cell in the body. This assumption is increasingly recognized as false due to the continual accumulation of post-zygotic mutations with every cell division. Other than the sequencing of tumors, tissue-specific genetic variations remain mostly unascertained.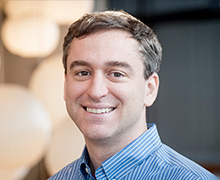 Dr. James Bennett
Work conducted in Dr. Bennett's lab focuses on understanding tissue specific mutation rates during human development and their impacts on congenital developmental disorders. Most recently Dr. Bennett identified post-zygotic mutations within FGFR1, a well-known oncogene, as being the cause of encephalocraniocutaneous lipomatosis (ECCL), a disorder of the skin, eyes, and brain that had previously been hypothesized to be caused by mosaic mutations. Another research focus includes characterizing the genetics of congenital vascular malformations, including isolated lymphatic malformations which Dr. Bennett and others recently showed were due to mosaic mutations in the PIK3CA gene.
Much of Dr. Bennett's work involves using Next Generation Sequencing (NGS) to identify the rate of mosaic mutations in tissue specific regions. Accurate identification of low-frequency (<1%) mosaic mutations is a technical challenge achieved only through biostatistical analysis, the use of sensitive molecular barcode counting methods, and droplet-digital PCR.
As a practicing clinical geneticist, Dr. Bennett also actively contributes to an extensive bio-repository of tissue samples associated with congenital disorders, which he is interested in leveraging as a tool in developing new diagnostics and validating pharmaceutical targets. Furthermore, Dr. Bennett has access to a suite of state of the art NGS equipment, which could be used to explore new genetically linked diseases of mutual interest to industry partners.
Stage of Development
Pre-clinical in vitro
Pre-clinical ex vivo
Partnering Opportunities
Collaborative research opportunity
Development opportunity
Sponsored research agreement
Consultation agreement
Tissue sample access
Publications
Oosterhof N, Chang IJ, Karimini EG, Kuil LE, Jensen DM, Daza R, Young E, Astle L, van der Linde HC, Demmers J, Latimer CS, Keene CD, Loter E, Maroofian R, van Ham TJ, Hevner RF, Bennett JT. Homozygous mutations in CSF1R cause a pediatric-onset leukoencephalopathy and can result in congenital absence of microglia. Am J Hum Genet. 2019 May 2;104(5):936-947. doi: 10.1016/j.ajhg.2019.03.010. Epub 2019 Apr 11.
German K, Deutsch GH, Freed AS, Dipple KM, Chabra S, Bennett JT. Identification of a deletion containing TBX4 in a neonate with acinar dysplasia by rapid exome sequencing. Am J Med Genet A. 2019 May;179(5):842-845. doi: 10.1002/ajmg.a.61096. Epub 2019 Mar 3.
Byers HM, Jensen DM, Glass IA, Bennett JT. Minimal mosaicism, maximal phenotype: Discordance between clinical and molecular findings in two patients with tuberous sclerosis. Am J Med Genet C Semin Med Genet. 2018 Sep;178(3):374-378. doi: 10.1002/ajmg.c.31656.
Padia R, Zenner K. Bly R, Bennett J, Bull C, Perkins J. Clinical application of molecular genetics in lymphatic malformations. Laryngoscope Investig Otolaryngol. 2019 Jan 12;4(1):170-173. doi: 10.1002/lio2.241.
Clowes Candadai SV, Sikes MC, Thies JM, Freed AS, Bennett JT. Rapid clinical exome sequencing in the pediatric ICU: genetic counselor impacts and challenges. J Genet Couns. 2019 Apr;28(2):283-291. doi: 10.1002/jgc4.1116.
Piacitelli AM, Jensen DM, Brandling-Bennett H, … Bennett JT. Characterization of a severe case of PIK3CA-related overgrowth at autopsy by droplet digital PCR and report of PIK3CA sequencing in 22 patients. American Journal of Medical Genetics. (accepted Jul 8 2018).
Gripp K, Aldinger K, Bennett J et al. A novel rasopathy caused by recurrent de novo missense mutations in PPP1CB closely resembles Noonan syndrome with loose anagen hair. Am J Med Genet. 2016;170(9):2237-2247.
Bennett JT, Tan T, Alcantara D et al. Mosaic activating mutations in FGFR1 cause encephalocraniocutaneous lipomatosis. The American Journal of Human Genetics. 2016;98(3):579-587.
Luks V, Kamitaki N, Vivero M, … Bennett JT, Dobyns W et al. Murillo R. Lymphatic and other vascular malformative/overgrowth disorders are caused by somatic mutations in PIK3CA. The Journal of Pediatrics. 2015;166(4):1048-1054.e5.
Bennett JT, Vasta V, Zhang M, Narayanan J, Gerrits P, Hahn S. Molecular genetic testing of patients with monogenic diabetes and hyperinsulinism. Molecular Genetics and Metabolism. 2015;114(3):451-458.
Learn More
To learn more about partnering with Seattle Children's Research Institute on this or other projects, please contact:
Dr. Elizabeth Aylward, Director
Office of Science-Industry Partnerships
Seattle Children's Research Institute
818 Stewart Street, Suite 603
Seattle, WA 98101
Email
206-884-1065