Treatments and Services
Cardiac Catheterization Procedures
Instead of requiring surgery, many heart conditions can be treated in one of our state-of-the-art cardiac catheterization laboratories.
Cardiac catheterization is a procedure where a specially trained heart doctor (cardiologist) inserts small plastic tubes (catheters) into veins and arteries to diagnose or treat a heart condition. The doctor guides the catheters to the right places using X-ray and ultrasound images.
What's special about the experience at Seattle Children's?
Seattle Children's cardiologists are leaders in providing safe and effective diagnostic and interventional catheterization and electrophysiology (EP) procedures for newborns, children and adolescents.
The cardiac catheterization team provides care in two dedicated catheterization laboratories. Both are equipped with the latest technology to support:
The highest level of image clarity, including 3D imaging. This gives our doctors the clearest picture possible of your child's heart, and helps make the procedure safer.
Dramatically reduced levels of radiation exposure. Our imaging equipment is designed to image as "gently" as possible, reducing radiation exposure by up to 75% over other kinds of catheterization equipment. This is especially important for children with conditions that may require many procedures over the course of their lifetime.
Hybrid heart procedures. Both labs allow our cardiologists to work with our cardiac surgeons to use cardiac catheterization procedures along with surgical procedures to treat complex heart problems.
Cardiologists at Seattle Children's are leaders in using new techniques and innovative devices to help hundreds of children each year avoid open-heart surgery. For example, our doctors were among the first to use catheterization to replace heart valves.
Our doctors partner with biotechnology companies to develop safer and less-invasive treatments. The team is involved in clinical trials testing new devices and treatments that may further reduce the risk and discomfort of treatment for children with congenital heart disease.
Why are cardiac catheterization procedures performed?
Cardiac catheterization is used to diagnose and treat certain types of heart conditions.
Diagnostic catheterizations help doctors determine the best way to treat more complex conditions. The information gathered during the catheterization is used to figure out the best timing for heart surgery and often to plan the operation itself and care afterwards.
Some children's heart conditions can be treated using a procedure called

interventional catheterization

, instead of having open heart surgery.
Catheterization procedures can also be used to diagnose and treat a variety of heart rhythm conditions. These specialized catheter procedures are called electrophysiology (EP) studies. EP studies allow doctors to map the electrical pathways in the heart and correct abnormal or harmful heart rhythms.
Catheterization procedures are less painful and have shorter recovery times than surgical treatments for the same conditions. Children are often able to go home the same day or the next morning.
Conditions that may be treated in the catheterization lab include:
Learn more about what to expect with a cardiac catheterization.
Who's on the team?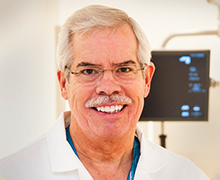 Dr. Thomas Jones, director of the cardiac catheterization laboratories, is an internationally respected expert in pediatric and congenital cardiac catheterization.
In collaboration with Drs. Troy Johnston, Jack Salerno, Terrence Chun, Agustin Rubio and Steve Seslar, Dr. Jones leads a highly specialized team that works with the rest of the Heart Center staff, including other cardiologists and pediatric cardiac surgeons, cardiac nurses, radiology technicians and anesthesiologists.
The team also works with pediatric and adult cardiologists from all over the Northwest.
Contact Us
Contact the Heart Center at 206-987-2015 for a referral, a second opinion or more information.