Services We Provide
Early Childhood Clinic
What is the Early Childhood Clinic?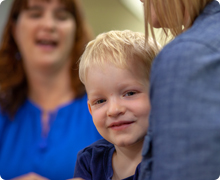 The Early Childhood Clinic is a specialty clinic within Psychiatry and Behavioral Medicine for babies and children age 5 or younger who have:
Behavior issues, like disruptive behavior

Anxiety

Sleep problems

Neurodevelopmental

problems
Exposure to alcohol or drugs before birth (prenatal)
Many of our patients have behavior challenges along with a medical condition or health problem, like obstructive sleep apnea. Sometimes, their behavior and their other condition affect each other, making their care more complex.
We perform a thorough evaluation to understand your child's challenges and then work closely with you to provide short-term, evidence-based care. Our focus is on helping you as a parent so you can help your child reach their full potential.
We do not treat these conditions