Services We Provide
Early Childhood Clinic
What is the Early Childhood Clinic?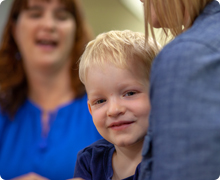 The Early Childhood Clinic is a specialty clinic within Psychiatry and Behavioral Medicine for babies and children age 4 or younger who have:
Many of our patients have behavior challenges along with a medical concern. Sometimes, their behavior and their other condition affect each other, making their care more complex.
We do a thorough evaluation to understand your child's challenges and then work closely with you to provide short-term, evidence-based care. Our focus is on helping you as a parent with training, support and other resources so you can help your child.
We do not treat these conditions
How will the Early Childhood Clinic meet my needs?
Early Childhood Clinic providers are experts in the emotions and behavior of babies and young children. We know the treatment methods that work best for their age and developmental stage.
To learn more about your child, we begin with a telehealth (virtual) consultation. A clinic provider will meet with you online to hear your concerns and ask questions. At the end of the visit, we will talk with you about next steps and recommendations. We may suggest services for your child either at Seattle Children's or in the community.

After your telemedicine visit, your child's provider may recommend coming to Seattle Children's for a more in-depth evaluation. To get a complete picture, we ask you to fill out a family information form online before your first appointment. During your evaluation visits, we also:

Talk with you to learn more about your child.
Ask you to fill out forms that ask questions about your child.
Observe your child's behavior, like how they interact or play with you.
Look for signs of developmental concerns. We may do tests too.

Our goal is to understand your child's struggles and possible solutions. Usually, evaluations take 3 to 4 visits. Then we make a diagnosis and develop a treatment plan.

We explain what we found and what we recommend as a next step. We also ask for your input about the diagnosis and treatment plan.

For young children, we focus on teaching you, the parent, the information and skills to help your child thrive and succeed. We offer training, coaching, support and resources for you, matched to your child's behavior and development. (We do not offer play therapy or other forms of 1-on-1 therapy for children age 4 or younger.)

Based on your child's needs, treatment may involve many options. These are some examples:

Parent groups at Seattle Children's where you can gain skills to help your child and get support from other parents (Incredible Years group and Anxiety Parent Group)
Training on the most effective ways to handle your child's behavior with the Early Childhood Clinic team
Reading materials that address your child's needs
Prescribing medicine for your child's condition (less common for young children) or adjusting your child's current medicine
Referral to a behavior specialist to assess why your child acts a certain way and how to change their behavior
Referrals to other programs at Seattle Children's, like the Autism Center or Sleep Disorders Program
Referral for a

birth-to-3 center

or special education assessment
Referrals to other community resources

Our team works with providers from other specialties at Seattle Children's to address all aspects of your child's health, including:
Seattle Children's also offers a mental health clinic for children age 2 to 18 and their families who prefer to get some or all of their care in Spanish. Learn more.
We do not offer these services
Scheduling an Appointment With the Early Childhood Clinic