Services We Provide
Program to Enhance Attention, Regulation and Learning (PEARL) for ADHD
Is PEARL for children with ADHD?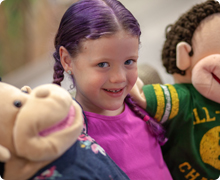 The Program to Enhance Attention, Regulation and Learning (PEARL) is a specialty program within Psychiatry and Behavioral Medicine for children and adolescents age 5 or older who have:
Many children with ADHD or related challenges get a diagnosis and medicine from their primary care provider (PCP). For children with more complex needs – like subtle ADHD that is hard to diagnose or ADHD that is complicated by other issues – PEARL offers specialty care from experts.
We specialize in thorough evaluations that can guide treatment of learning, attention and behavior problems. Then we work closely with you and your child's PCP to plan and provide evidence-based care.
PEARL is not for children who have learning disabilities without ADHD. Talk with your child's school about services that might help in this case.
How will PEARL meet my family's ADHD needs?
Seattle Children's PEARL experts are leaders in ADHD care, conducting research and translating the latest knowledge into real-world solutions for families.
The PEARL team helps sort through myths and facts, and they can answer questions like:

Does my child have ADHD, a learning problem, both or something else?
How severe is my child's situation, and what might put my child at greater risk for problems or help protect them from problems?
Is my child getting the services they need at school?
What are the best evidence-based treatments for my child, and what are the costs and benefits of these treatments?
How will my child's condition and needs change over time, and how can we track progress?
What are the most effective ways to parent my child?

To get a complete picture of your child's challenges and strengths, we interview you and your child and gather background information from their PCP and school. If there are signs your child has a learning disorder, we may test for this too. Our goal is to find the source of your child's struggles. Most evaluations take 1 to 3 visits.

This is a two-way conversation, where we explain what we found, answer your questions and talk about next steps for treatment.

A copy of your child's evaluation goes to your child's PCP so we can work with them to develop a treatment plan and coordinate care. Most children return to their PCP for treatment. The PEARL clinic, or other Seattle Children's programs or clinics, may provide some of your child's treatment too.

Depending on your child's specific needs, their treatment plan may involve several providers and services. These are common options for treatment:

Appointments with your child's PCP to check for and treat health issues that might affect learning, attention and behavior, like thyroid conditions
Parenting groups at Seattle Children's to support you and your child and teach you skills for dealing with ADHD
Trying medicine for ADHD or adjusting your child's current medicine
Visits for your family with PEARL providers to discuss topics like what to expect from treatment, how to tell whether treatment is working and how to be an advocate for your child at school
Concrete suggestions from PEARL providers for your child's school about how to help your child, including recommendations for a 504 plan or individualized education program for the school to consider
Referrals to other programs at Seattle Children's, like Sleep Disorders, Speech and Language or Neurodevelopmental, for more evaluation
Camp Sea STAR (Summer Treatment for ADHD and Related Disorders), an intensive day program held each summer in partnership with University of Washington's Apex Summer Camp
Referrals to other community resources to help your child thrive and succeed

Seattle Children's experts are building new knowledge about the best ways to diagnose and treat ADHD by conducting clinical research with families who volunteer. Your child may be eligible to take part in one of our current studies.
We do not offer these services
Long-term individual therapy or long-term medicine management.
In-home therapy. Many community mental health centers provide this service.
Parenting evaluations for legal purposes, such as developing parenting plans. Visit the Parenting Evaluation Treatment Program (PETP) Graduates webpage for a list of trained providers in the community.
School evaluations after suspension or expulsion. Contact your child's school for a list of providers who do "return to school" evaluations.
Who's on the team?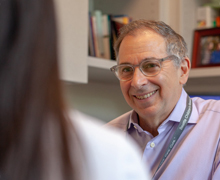 The PEARL team is led by Dr. Mark Stein and includes Drs. Erin Schoenfelder and Tyler Sasser as well as other psychiatrists, psychologists, advanced registered nurse practitioners, pediatricians and mental health therapists with special training in ADHD, plus trainees from many areas of healthcare. Members of the PEARL team work together closely to understand your child's needs and develop a complete treatment plan.
How to Get Services
School problems such as ADHD are very common. The PEARL Clinic works with your child's primary care provider (collaborative care model). If you think your child would benefit from a PEARL evaluation, please talk with your primary care provider, who can then refer you. Learn more about how to get mental health services at Seattle Children's.
Once we get a referral from your provider, we will let them know if we have an opening for your child or not.
If you already have an appointment, learn what to expect at the PEARL Clinic evaluation visit (PDF) and learn more about how to prepare.
Learn about Psychiatry and Behavioral Medicine resources, such as useful links, videos and recommended reading for you and your family.
Have insurance questions?
Some insurance plans have Seattle Children's as an in-network provider for medical services and an out-of-network provider for mental health services.
Even if your plan offers an out-of-network benefit, we are not accepting new patients for our mental health services if their insurance does not include Seattle Children's as an in-network provider.
Learn about mental health insurance coverage at Seattle Children's.
Have Billing Questions?
Seattle Children's bills a facility charge (PDF) for hospital-based clinic visits. Learn more about your bill.
In a Crisis?
If your child or family needs help right away, call your mental health crisis line or text HOME to 741741.