Services We Provide
Program to Enhance Attention, Regulation and Learning (PEARL) for ADHD
What is PEARL?
PEARL offers evaluations for children and adolescents ages 5 to 15 to diagnose:
Other challenges with learning, attention and behavior
Many children with ADHD or related challenges get a diagnosis and medicine from their primary care provider (PCP). For children with more complex needs — like ADHD that is hard to diagnose or affected by other issues — a PEARL evaluation may be helpful. Experts from Seattle Children's Behavior and Attention Management Program do these evaluations. We see many children with similar conditions.
Our team members do a thorough evaluation that can guide treatment of learning, attention and behavior problems. Then we work closely with you and your child's PCP to plan and provide evidence-based care.
A PEARL evaluation is not for children who have learning disabilities without ADHD. Talk with your child's school about a special-education evaluation or services that might help in this case.
How will a PEARL evaluation meet my family's needs?
Seattle Children's PEARL experts are leaders in ADHD diagnosis and care. They do research and translate the latest knowledge into real-world solutions for families.
The PEARL team helps sort through myths and facts. They can answer questions like these:

Does my child have ADHD, a learning problem, both or something else?
How severe is my child's condition?
What might put my child at greater risk for problems or help protect them from problems?
Is my child getting the services they need at school? How can I make sure they do?
What are the best evidence-based treatments for my child?
What are the benefits of those treatments?
How much do the treatments cost?
How will my child's condition and needs change over time?
How can we track my child's progress?
What are the most effective ways to parent my child?

To get a complete picture of your child's challenges and strengths, we interview you and your child. We also gather background information from your child's PCP and school. We can review testing done by your child's school or privately. Our goal is to find the source of your child's struggles. Most evaluations take 1 to 3 visits.

This is a 2-way conversation where we explain what we found, answer your questions and talk with you about next steps for treatment.

A copy of your child's evaluation goes to your child's PCP. We can work with them to develop a treatment plan and coordinate care. Most children return to their PCP for treatment. The Behavior and Attention Management Program or other Seattle Children's programs or clinics may also treat your child.

Based on your child's needs, their treatment plan may involve many providers and services. These are common options for treatment:

Visits with your child's PCP to check for and treat health issues that might affect learning, attention and behavior, like sleep or thyroid conditions
Parenting groups through the Behavior and Attention Management Program to support you and your child and teach you skills for dealing with ADHD and challenging behavior
Supportive resources for families of children with ADHD or related difficulties through Seattle Children's or in the community
Prescribing medicine for ADHD or adjusting your child's current medicine
Visits for your family with PEARL providers to discuss how the treatment is working and how to be an advocate for your child at school
Suggestions from PEARL providers for your child's school about how to help your child, including recommendations for a 504 plan or individualized education program (IEP)
Referrals to other clinics at Seattle Children's, like Sleep Medicine, Speech and Language Services or Neurodevelopmental, for more evaluation
Referrals to other community resources to help your child thrive and succeed

Seattle Children's experts are building new knowledge about the best ways to diagnose and treat ADHD by doing research with families who volunteer. Your child may be able to take part in one of our current studies.
We do not offer these services
Scheduling an Appointment for a PEARL Diagnostic Evaluation
Who's on the team?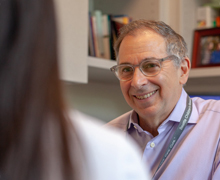 The PEARL team is led by Dr. Mark Stein and includes psychiatrists, psychologists, advanced registered nurse practitioners, pediatricians and mental health therapists with special training in ADHD, plus trainees from many areas of healthcare. Members of the PEARL team work together closely to understand your child's needs and make a complete treatment plan.
Telemedicine at Seattle Children's
You may be offered a telehealth (virtual) appointment. Learn more.
Have insurance questions?
Some insurance plans have Seattle Children's as an in-network provider for medical services and an out-of-network provider for mental health services.
Even if your plan offers an out-of-network benefit, we are not accepting new patients for our mental health services if their insurance does not include Seattle Children's as an in-network provider.
Learn about mental health insurance coverage at Seattle Children's.
Paying for Care
Learn more about paying for care at Seattle Children's, including insurance coverage, billing and financial assistance.
In a crisis?
If you, your child, family or friend needs help right away, call or text 988. Chat is another option. The 988 Suicide & Crisis Lifeline provides free and confidential support for people in distress, as well as prevention and crisis resources. The Lifeline is available 24 hours a day, 7 days a week in the United States.
Hotlines for Youth (PDF) provides other options for immediate help for children and teens. (Also available in Amharic, Arabic, Russian, Simplified Chinese, Somali, Spanish, Ukrainian and Vietnamese.)