Patient Ambassadors
Meet Max and Beck

Why I Say Yes to Unlocking the Mysteries of the Developing Brain
By Erin Cordry, Max and Beck's mom
A life-threatening journey for Max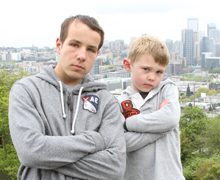 Our son Max Hanson was barely 1 when he started tossing a ball in the air and catching it ‒ "up ball, up ball … ball, ball, ball." He grew into a talented athlete, obsessed with all sports. His favorites were baseball, soccer and basketball ‒ his coaches told us he was special. But in February 2004, after he was sidelined with headaches for more than a week, an MRI revealed an aggressive cancerous brain tumor. We were completely devastated. A few days later, Seattle Children's surgeons removed an aggressive, malignant tumor from our 8-year-old's brain.
The next year was a blur of intense treatments starting with daily chemotherapy and cranial spinal radiation followed by monthly inpatient chemotherapy. After the surgery, Max couldn't walk and had balance and coordination problems, so his hospital stays included rigorous daily physical, occupational and speech therapy.
We were able to keep going thanks to a constant outpouring of love and support from family and friends ‒ and our Seattle Children's care team. They were all there for us completely and unquestioningly throughout the entire ordeal.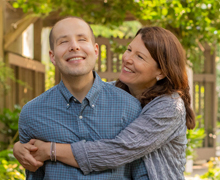 We are forever grateful to the doctors and the donors responsible for the advances that saved Max's life. We are also proud of how Max fought through his illness and continues to bravely confront health obstacles that are side effects of his cancer treatment. Now 23, he recently graduated from college with a degree in biology; after graduate school, he plans to work in a lab that develops the kind of clinical research trials that saved his own life.
Through Max's experience, we learned the sobering fact that less than 4% of federal medical funding supports pediatric cancer research. This desperate need for private funding is why I helped launch the Pediatric Brain Tumor Research Guild. For the last 14 years, we've worked with Four Seasons Hotel Seattle to put on the Run of Hope fundraiser, an event that's raised $5 million to give more children like Max the chance for a healthy life.
A frustrating road for Beck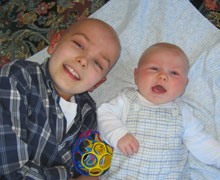 The day we learned Max had cancer, I was holding his 4-week-old brother, Beck, in my arms. He spent much of his first year of life at Seattle Children's, charming those he met as we sat by Max's bedside.
When Beck turned 4, he seemed overly anxious and he worried excessively. As time went on, he became fixated on germs. He washed his hands so vigorously that they literally bled. It became clear that this was not a passing phase and we grew more and more concerned. At school, Beck wouldn't go into the gym because a kid had vomited there the previous week; at home, he wouldn't go out to dinner because of germs under the table. Friendships dwindled because he was constantly misinterpreted. We were miserable because Beck was so unhappy ‒ and we had no idea how to help.
"Did you know that by age 12, a child with ADHD will hear 20,000 negative comments about themselves?"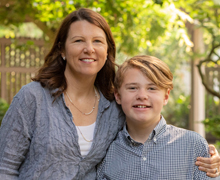 Any parent whose child faces mental health issues walks a road rutted with misunderstandings and sometimes critical judgement. It's heartbreaking and isolating to watch your child suffer while few recognize the complexity of their struggles. You'd never ask a child with a broken leg to stop being lazy and get up and play football, yet this is how many kids with mental health issues are treated on a daily basis.
After years of searching, we finally found some answers. Dr. Geoffrey Wiegand, head of the Obsessive-Compulsive Disorder (OCD) Clinic at Seattle Children's, basically saved our lives. Beck was diagnosed with attention deficit/hyperactivity disorder (ADHD) and OCD at age 9, and Dr. Wiegand was the first person to prescribe a combination of exposure therapy and medication that began to make a difference.
But Beck's experience brought home stark realities around barriers to access for mental health care. As an example, we see Dr. Wiegand in private practice because his hospital clinic caseload is full ‒ clearly not an option for many families due to financial and other constraints. The staff at Seattle Children's is outstanding, and we need to find ways to provide this high-quality mental health care for all kids.
Why I Say Yes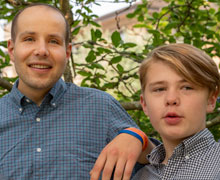 As much as I learned from Max's journey, I learned even more helping Beck. Max will have side effects from his treatment for brain cancer for the rest of his life, and Beck carries the added cultural stigma around OCD and ADHD. Very few people recognize the complexity of what will also be a lifetime struggle for him. That's why I was inspired to say yes when I was asked to co-chair a fundraising initiative to unlock the mysteries of the developing brain (one of the core pillars of It Starts With Yes: The Campaign for Seattle Children's). I want to support Seattle Children's pioneering efforts to understand how brain disorders are connected to each other and to brain development.
Right now, we have a once-in-a-lifetime opportunity to lead this revolution in the neurosciences. Seattle Children's has an amazing team of doctors and researchers, and it's philanthropy that will accelerate our ability to find the root causes – and develop better treatments and cures – for conditions affecting kids' developing brains.
Thank you for joining me in saying yes to moving this life-changing work forward!
Meet More It Starts With Yes Patient Ambassadors
About It Starts With Yes
It Starts With Yes: The Campaign for Seattle Children's is a bold initiative to partner with our community and deliver on our shared vision to transform children's health for generations to come. With your generous support, we can envision a day when we can say yes to hope, care and cure for every child. See what your yes can do and donate today.