Philanthropy Ambassadors
Meet Aliyanna
I Said Yes to a Research Trial That Saved My Baby
By Daisy Martinez, Redmond, Oregon
When I was 25 weeks pregnant, an ultrasound revealed a cancerous tumor growing on my baby's spine. Just five weeks later, Aliyanna was born with the painful tumor – and when it ruptured, her medical team asked me to say goodbye to my tiny 4–pound fighter. I told her: 'You are strong.' That same day, she survived a 12–hour surgery to remove part of the tumor that was taking her blood supply.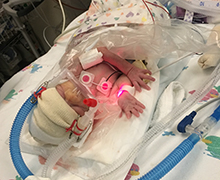 In February, doctors found the tumor had regrown. We talked about starting chemotherapy to prevent it from getting even bigger, but she was so small that we wanted to try other options first. That's when Aliyanna came to Seattle Children's. We met a lot of people right away, but I clearly remember Dr. Doug Hawkins talking to me about a research trial for a drug called larotrectinib. He showed me how it had worked for other kids and he believed it could help stop Aliyanna's growing cancer.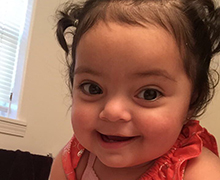 I felt so nervous and scared – Aliyanna would be the smallest baby in the trial – but I decided to be positive and give it a try. Within the first couple of weeks, we saw a huge change. The tumor was visibly shrinking, and Aliyanna was suddenly more awake, hungry and happy. It felt like a miracle.
Today, Aliyanna is a spunky 2–year–old who is fascinated by books. She continues to take larotrectinib and recently learned to walk. Looking at her now, you'd never guess what she went through in those first months – but I'll always remember her Seattle Children's family and how much love they showed to Aliyanna.
An Update on Aliyanna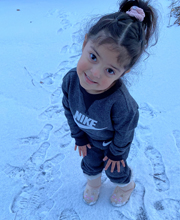 Aliyanna is now a spirited, independent and active 3-year-old who is walking, talking and loves to sing. ("Daddy Finger" and "Baby Shark" are her go-to song choices.) She started walking at age 2 and began forming sentences just before turning 3 with the help of speech therapists, her family and her own determination.
"We were told she may never walk and that she was always going to be delayed in her life," Daisy says. "It was surprising when I saw her hit the milestones. They were proud moments."
Aliyanna still travels from her home in Oregon to Seattle Children's once a month for checkups and every three months for an MRI. She continues to take larotrectinib to keep the tumor from growing back.
In February 2021, Aliyanna became a big sister to brother Ahlias. She takes this new job very seriously and especially loves to help during his feedings.