Philanthropy Ambassadors
Meet Garrett

Our Son is Alive Thanks to Seattle Children's World-Class Infant Critical Care
By Kevin and Erin Smith, Garrett's parents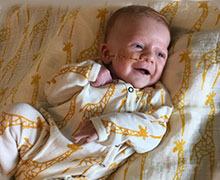 We were overjoyed to welcome our second son, Garrett Lawrence Smith, into the world at 4:14 a.m. on May 16, 2018. But our happiness quickly turned to worry when, instead of his first cry, we heard only quiet whimpers as he struggled to breathe.
Our son looked perfect in every way, but on the inside, his lungs were failing him. Little did we know that this was the beginning of a 42-day odyssey to help Garrett breathe on his own.
The first segment of our journey involved the expert care and quick thinking of medical teams at three hospitals. Garrett was born at Swedish Medical Center in Edmonds, and our doctors there soon realized he needed the Neonatal Intensive Care Unit (NICU) specialty services available at Swedish First Hill Campus.
So, at less than a day old, Garrett traveled by ambulance to Seattle, where the Swedish First Hill team worked tirelessly to help him breathe. But he could not maintain healthy oxygen levels even with the aid of a ventilator. The doctors pulled us aside to deliver heartbreaking news: Garrett had severe pulmonary hypertension ‒ the arteries providing blood flow to his lungs were constricted ‒ and he was not responding to the treatments that they could provide.
Our next hope was Seattle Children's NICU, which offered extracorporeal membrane oxygenation (ECMO) ‒ the life support needed to save our baby boy. We were in shock and frankly terrified, but we also felt beyond-words blessed to live so close to such a world-class medical facility. Off Garrett went, under lights and sirens, to the third hospital in 36 hours.
The best care possible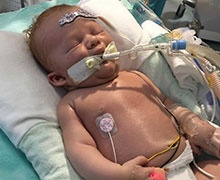 From a strictly medical standpoint, it was obvious that we were in the right place the moment we entered Seattle Children's NICU and saw a team of 30 specialists surrounding Garrett's bed. While it brought home the enormity of his illness, it was also reassuring, because we knew he was getting the best care possible.
Seattle Children's is one of only a handful of hospitals in the country able to care for critically-ill babies like Garrett, and he benefited daily from their wide-ranging expertise. Our medical team worked tirelessly to help our son survive, beginning with smoothly conducting a difficult surgery to connect his tiny body to the ECMO machine.
Garrett was surrounded by the very best doctors, including our neonatologists who requested a lung biopsy to look for a possible cause for his problems. We were relieved when Dr. Gail Deutsch, a world-renowned neonatal pathologist ruled out rare forms of irreversible congenital lung disease.
"We were in shock and frankly terrified, but we also felt beyond-words blessed to live so close to such a world-class medical facility."
The NICU team also collaborated with cardiologists from Seattle Children's Heart Center to give Garrett a special pulmonary hypertension drug called treprostinil ‒ which requires great skill to safely administer and therefore is used at only a few pediatric centers. This medication helped relax the blood vessels in Garrett's lungs so he could finally get off ECMO.
These are just a few examples of the incredible expertise of Seattle Children's medical staff ‒ who equally excel on a relational and emotional level. We grew especially close to ECMO Specialist Dr. Kendra Smith and NICU Medical Director Dr. Robert DiGeronimo – "Dr. Bob," as we know him – who went out of their way to make us comfortable.
We also developed strong bonds with Garrett's critical care nurses, whose astute observations allowed us to be more present for our son. They knew when we needed a break before we did, and their expertise and loving care made us feel secure enough to leave Garrett's bedside for a short walk or to get a cup of coffee. And they even surprised us with a handmade card and ornament decorated with Garrett's handprints and footprints! Such kindnesses helped carry us through the most challenging days.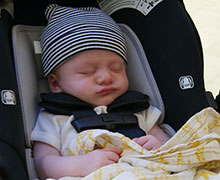 We will never know what caused Garrett to be born with severe pulmonary hypertension – a rare condition in which lung tissue is underdeveloped and fails to transition normally after birth to allow a baby to breathe room air. The 11 days he spent connected to the ECMO machine allowed his lungs to mature so he could breathe without assistance.
We hadn't anticipated the intensity of the next hurdle in his path – a painful, four-week long process of weaning off the heavy sedatives that had been necessary to keep his body still enough to benefit from ECMO. But Garrett's team made sure we understood the options through the countless trials of his hospitalization, and they always encouraged us to ask questions and participate in decision-making around his care.
"42 days after Garrett entered the NICU, we heard the news we'd been waiting for: Finally, our baby was well enough to go home."
Making miracles happen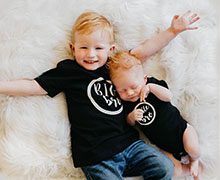 One morning, 42 days after Garrett entered the NICU, we heard the news we'd been waiting for: Finally, our baby was well enough to go home.
After he was first released from the hospital, Garrett had trouble learning to eat by mouth, but we eventually settled into the typical rhythm of life with a new baby. Our eldest son, Griffen, is thrilled to be a big brother and calls Garrett his best friend. Garrett is growing strong and rarely stops smiling ‒ and we're happy to report that his last checkup ended with the liberating words, "See you in six months!"
We owe a deep debt of gratitude to everyone who played a role in saving Garrett's life. So many people were there for us in so many ways ‒ from the medical professionals to the administrative staff, from the sibling playroom staff who entertained Griffen when he visited to those who keep the parent showers stocked with soap.
Every gift makes a difference when you donate to the hospital ‒ whether it's one dollar or a million. Garrett is living proof that Seattle Children's truly makes miracles happen.