Philanthropy Ambassadors
Meet Emerson

I Said Yes to a Treatment That Saved My Toddler
By Brei Haywood, Emerson's mother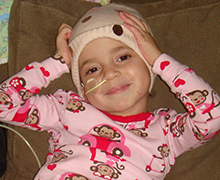 Our journey began when my husband and I noticed our 3-year-old daughter was not herself. Emerson became very lethargic – a big change from the spunky little personality we were used to. She was struggling with eating and sleeping, and then couldn't track her eyesight to the left.
We took her to the pediatrician and other doctors repeatedly, and I pleaded with them to take her symptoms seriously. Emerson got progressively worse, and her pediatrician agreed to do a chest x-ray. That's when we found a tumor the size of a mango in her tiny chest.
It was high-risk neuroblastoma, one of the most deadly cancers, and Emerson was in danger because the large tumor had pushed her heart and lung to the side. We went into survival mode and started learning as much as we could about the disease.
It turned out the nation's leading neuroblastoma specialist, Dr. Julie Park, was right in our own backyard at Seattle Children's. Everything we read and researched said there's no better place to be for neuroblastoma treatment.
More than 100 nights in the hospital over 15 months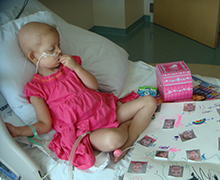 Because neuroblastoma is one of the trickiest cancers to treat, it has a particularly intense treatment. Emerson immediately started five rounds of chemotherapy that took five months to complete.
In between her admissions for chemo, Emerson spiked fevers and needed to return to the hospital to manage the harsh side effects from treatment. It was heart-wrenching to see our little girl – so full of laughter, joy and silliness – turn into someone completely different.
The chemo shrunk Emerson's tumor enough for her to undergo an operation to remove it. Following surgery, our daughter had a chemo blast to kill any hiding cancer cells, followed by an autologous stem cell transplant. This required 30 days in the hospital and isolation from people, since Emerson's white and red blood counts were completely wiped out.
After her body recovered from the stem cell transplant and her strength started to return, Emerson had 21 straight days of radiation at the site of her tumor. She then enrolled in an immunotherapy clinical trial, in which her immune system targeted any remaining cancer cells.
Every moment of Emerson's 15-month journey was incredibly tough. Her cancer treatment impacted the entire family – particularly Talen, Emerson's older brother by 13 months. When he started kindergarten, for example, Talen had already experienced what it's like to be on a hospital floor around kids who are deep in their fight against cancer.
Through it all, our family did our best to stay positive and hold on to hope that Emerson's life would be saved and her comedic personality would return.
"It's a forever journey"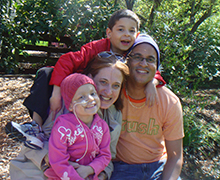 I'm incredibly happy to share that Emerson is in the 50% of kids who survive neuroblastoma and that she participated in a research trial of immunotherapy that became the standard of care for kids with high-risk neuroblastoma, due to its success rates.
Emerson is 13 years old now, and she's had no evidence of disease for eight years. However, there is plenty of evidence of the toxic treatment she withstood, including both literal and figurative scars. Today, her lung capacity is 70%, she wears hearing aids and her beautiful curly hair has remained thin since her treatment.
Those are hard things for a teen girl to manage, and Emerson could also have to come to terms with the potential long-term side effect of infertility. Her dad and I remain hopeful that maybe this will be one side effect that won't affect Emerson – or that science will progress to the point where she can have children if she wants to.
That's why I work at Seattle Children's now, fundraising for cancer care and research. I want to make sure other kids with cancer don't face a future filled with debilitating side effects, and that their disease can be cured as quickly as a cold.
Even though Emerson's cancer will always be a part of her life, it definitely doesn't define her. I always tell her it's a forever journey, but it's not her full story. Emerson is going to make her own story.