Philanthropy Ambassadors
Meet Anna

Limb-Lengthening Surgery Puts the World Within Reach for Our Daughter
By Lisa and Eric Booth, Anna's parents
Our daughter, Anna, was born with achondroplasia – the most common type of dwarfism. It's caused by a mutation in a single gene that prevents the bones in her arms and legs from getting the signal to fully grow. Basically, her limbs are short in proportion to the length of her torso.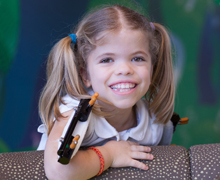 At 3 feet tall, our 9-year-old is currently in the 5th percentile for height compared to her peers; when she reaches adulthood, she'll top out around 4 feet. But what she lacks in height, she makes up for in charisma. She may be short on stature, but her contagious laugh and radiant smile make her very long on personality!
Standing out isn't new for Anna: she came into the world defying all expectations. My husband Eric and I will never forget the day I gave birth to her.
Everything was fine at 9 a.m. At noon, I got an ultrasound and the room went quiet. I heard the doctor say "dwarf." By 4 p.m., a perinatal specialist told me Anna had a 10% chance of survival – and if she did survive, she'd be challenged with severe disabilities. I went into labor completely shell-shocked, thinking our daughter wouldn't make it past the delivery.
Thankfully, Anna entered the world bright, pink and perfectly formed. All of a sudden achondroplasia wasn't so scary. We were incredibly lucky that the doctor's diagnosis was wrong and Anna didn't have a fatal form of dwarfism.
A relationship built on trust
About a month after Anna was born, we had our first appointment at Seattle Children's Skeletal Dysplasia Clinic. It was the start of a relationship with a team that we now call our second family.
They taught us how to advocate for our daughter's needs; and, as Anna's gotten older, their focus has broadened to include helping her navigate the social and emotional issues that come with dwarfism.
"Seattle Children's does its best work – it absolutely shines – with kids like my daughter who have complex medical conditions. The clinical teams are so compassionate with the entire family and they are absolute experts in their fields." – Lisa Booth, Anna's mom
That's why we went straight to the clinic for advice when we found out that she'd stopped going to the bathroom at school. She was in second grade at the time, and she was too embarrassed to ask her teacher for help. (Her upper arms were much shorter than her forearms, which made basic personal hygiene tasks almost impossible for her to do on her own.)
After talking to our medical team about choices, including whether to begin using adaptive devices for daily self-care or having surgery to lengthen the bones in Anna's upper arms, we met with one of Seattle Children's orthopedic surgeons who specializes in limb lengthening.
It was interesting that this surgeon never insisted on surgery. Instead, she met us where we were on our journey. She definitely wasn't afraid to explore surgical advances, but she also acknowledged the risks with limb-lengthening surgery and respected our choice in the way we wanted to manage Anna's condition. She was very clear that surgery wasn't the only way and that gave us a lot of trust in her.
Getting "distracted"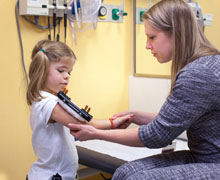 We learned that surgery to lengthen arms and legs has been done since the 1950s. But unlike many types of pediatric surgeries where a child may have pain for a few days after an operation and then begin to improve, limb lengthening can be a more difficult journey.
Our surgeon cautioned that Anna might start having more pain 6 weeks down the road when her muscles, ligaments and blood vessels started getting stretched out. She also warned that this surgery has a high risk of nerve injury, dislocated joints and infections.
Even with the risks – and hassle of three-times-per-week appointments for several months post-surgery – Anna pressed us to let her go through with the procedure that promised to give her greater independence. We also wanted her to live a lifetime not having to rely on other people for everyday tasks. In the end, we decided surgery was the best choice.
After a month of pre-surgical appointments, including lots of education from our surgeon and assessments by clinical team members from pain management, physical therapy and social work, we were finally ready for the big day – Anna's surgery.
During the 4-hour procedure, our surgeon made controlled cuts to the humerus bones in Anna's upper arms. She then implanted distractor devices in the bones from the top of Anna's shoulders down to her elbows. The devices slowly pulled apart or "distracted" the severed bones. In about a week, new bone tissue formed to fill in the gaps – and as the distractors pulled the bones farther apart, new tissue continued to grow and reconnect the bones.
Amazingly, Anna's bones grew nearly 1 millimeter a day during the distraction phase. After 75 days, her arms lengthened a total of 6½ centimeters!
A world within reach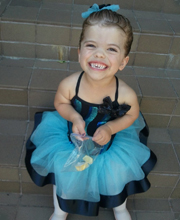 Anna's limb-lengthening process was a textbook case with no complications; today, she's thrilled to be able to reach standard faucets and light switches, use the bathroom without help, put her hair in pigtails and practice her dream of being able to do cartwheels.
We were so inspired by Anna's courage through the entire 5-month process – and grateful for the support we received from our team at Seattle Children's. Anna will continue to be seen at the Skeletal Dysplasia Clinic into adulthood – and we know beyond a doubt that the strong arms of the clinic will always be there to embrace our daughter.
An Update on Anna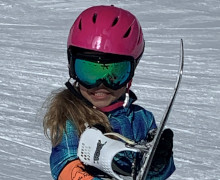 Anna is what her mom considers a "light bulb."
"She has this energy that lights up a room and is magnetic," says Lisa, Anna's mom. "People have always been really drawn to her and it's not just because she's a little person."
Now 11, Anna has grown into a fierce, feisty and funny fifth grader who enjoys activities like riding her bicycle and cross-country skiing. She also loves to be creative through art and storytelling.
Anna is healthy and has no residual pain from the limb-lengthening surgery. Her spinal cord is compressed, which may require surgery in the future. She is currently participating in a measurement study at Seattle Children's, which involves tracking the length of her bones over time to help advance research and care for people with achondroplasia.
Lisa knows the future is bright for Anna and she is grateful to have Seattle Children's by her family's side.
"We love Seattle Children's," she says. "They provide healthcare without privilege by meeting everybody's needs regardless of financial position and race – and they always have."
Learn More