Philanthropy Ambassadors
Meet Charlotte

Our Baby Got the Crucial Care That Saved Her Life Thanks to Uncompensated Care, a Donor-Supported Fund That Picks Up Costs Not Covered by Insurance
By Samantha and Dale Ahn, Charlotte's parents
Life with twins is hectic, but when one of them has major health problems it's a nonstop rollercoaster ride. Of course, we wouldn't trade Charlotte and Beatrice for the world – and a very important part of our world is the lifesaving support we've received at Seattle Children's. We are thankful every day for the loving care and expertise that has helped Charlotte overcome her many health hurdles.
It all started in 2014 when we found out we were having twins on the day after Christmas. At first, we didn't even believe the ultrasound tech… and then we laughed hysterically! We had just announced to our family that we were pregnant… and now we had double the joyful news to share. We were all ecstatic.
We enjoyed a couple months of pure happiness, and then, overnight, our lives became clouded with worry. In February, Charlotte, one of our twins, was diagnosed in utero with tetralogy of Fallot – a life-threatening heart condition that changes the way blood flows through the heart. Our cardiologist said she'd need to refer Charlotte to Seattle Children's for open-heart surgery after she was born, because it's the only medical center in our region with the expertise to perform the complex procedure.
We had no idea what to expect. Charlotte and Beatrice were our first babies, and we didn't know any other families who had children with heart defects or other serious medical needs.
Unforeseen issues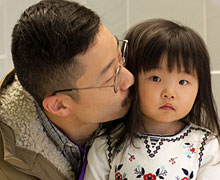 In June 2015, we joyfully welcomed the girls into the world, and for the first few months things felt relatively normal. Charlotte's heart pumped enough blood to keep her tiny body healthy and, looking back, we feel so lucky to have had that precious time to bond with the girls at home. When Charlotte was 4 months old, her heart had grown to the size of a golf ball – big enough for the open-heart surgery. Little did we know that it would be the first of many lifesaving treatments for her at Seattle Children's.
It was so scary to send our tiny baby into surgery, but thanks to our surgeons, all went well. We spent two weeks in the hospital before Charlotte was well enough to go home. It was during this time that we really experienced the compassionate care that sets this hospital apart. The nurses were amazing in the thoughtful ways they cared for our whole family. Charlotte's doctors took the time to explain things and answered all of our questions, making us feel like an essential part of her care team.
Then, for a few delightful months, Charlotte thrived at home and we started to do normal family things together, which was good because having twins was already such a huge adjustment! And then, just when we thought the worst of her health battle was over, Charlotte began to experience new health problems.
Over the following months, she bounced between Seattle Children's and another hospital for issues on top of her heart condition, including bile stones; hypertension; spleen and gallbladder issues; and a problem with her small intestine that prevented her from eating by mouth.
"Without the safety net of Seattle Children's Uncompensated Care Fund, we would have gone into debt, lost our house – or, most unthinkable, lost our daughter because we couldn't afford all the care she needed."
A lifeline in rough seas
Before Charlotte's heart surgery, a social worker at Seattle Children's had encouraged us to apply for financial assistance. We didn't think we would be approved since we had insurance through Dale's job, but I wasn't working outside the home and our application was approved. At the time, we had no idea how much we would depend on this assistance to cover all the care at Seattle Children's that was not compensated by our health insurance provider.
Without the safety net of the Uncompensated Care Fund at Seattle Children's, we would have gone into debt, or lost our house, or had to file for medical bankruptcy – or, most unthinkable, lost our daughter because we couldn't afford all the care she needed. As it was, a daunting number of bills poured in from the other hospital and an ambulance service.
Seattle Children's truly saved our daughter's life – and our way of life. They worked with our insurance provider behind the scenes, so we didn't have to worry about the financial aspect of Charlotte's care. Our daughter was able to get critical tests that helped save her life without us ever having to weigh whether insurance would cover them, or if we could afford them. In fact, we never even received a bill! Financial assistance at Seattle Children's allowed us to focus fully on Charlotte's health and well-being, and not worry so much about the money.
An inspiring, trustworthy place
Though we never would have wished for Charlotte's medical issues, at the same time we've grown so much because of them. The care and compassion we experienced at Seattle Children's continues to inspire us. We've learned a lot about empathy and grace, and we are more committed than ever to share this with our girls to help them develop a deep appreciation for life and how precious it is.
Now that Charlotte's health has improved, we can focus on the fun of raising twin toddlers. Charlotte was more reserved than Beatrice when they were born, but through all the difficulties she's faced, "our shy girl" has become comfortable in expressing herself. She's very boisterous now – and very opinionated!
Charlotte still has regular checkups and, one day in the future, she will need heart valve surgery. Even though more hospital time is ahead, we feel secure in the care we'll continue to receive from the team we trust with our most precious gift – our daughter's life.
An Update on Charlotte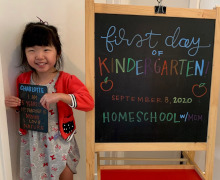 Charlotte is now a curious and independent 5-year-old who recently started kindergarten and has a thirst for knowledge (her current favorite topics include animals and space). She has a quiet demeanor, keen observational skills and a zest for life. She loves drawing, reading, building things with Legos and playing with her twin sister, Beatrice.
In spite of several health issues over the past couple of years, Charlotte is doing well. She still requires regular checkups at Seattle Children's and will need more surgeries in the future – most likely when she is a preteen.
"The past few years have been a roller coaster ride for our family, but we are so thankful to be part of the Seattle Children's community," says Samantha, Charlotte and Beatrice's mom. "You can see that everyone genuinely cares for your family when you go there."