Philanthropy Ambassadors
Meet Caleb
Finding a Medical Home – and the Best Quality of Life – for Our Little Superhero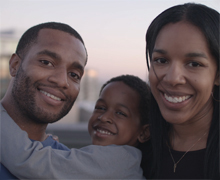 Meet our son Caleb. He's an active 6-year-old, a first-rate negotiator (!), a good reader and a serious student of all things superhero, especially Spider-Man. He's also a child with a life-threatening intestinal disorder.
In early 2016, we were living in another state and struggling with complications Caleb had developed at a hospital where his doctors had never seen a child with his rare condition. One of his former doctors called us and encouraged us to visit the intestinal rehabilitation team at Seattle Children's. As soon as we could, we flew across the country.
In Caleb's six short years, we've lived in three different states searching for the kind of care that will give him the very best quality of life. The minute we met the team at Seattle Children's, we knew we'd found our medical home – and our fourth and final place of residence.
We were really amazed that the team knew absolutely everything about our son's condition, and we quickly realized it's because they have subspecialists whose only focus is treating children with bowel function issues. We were deeply comforted to learn that the team is one of the few in the nation with survival rates above 90% for kids with intestinal failure.
We moved to Seattle when Caleb was strong enough to be airlifted – just a month and a half after our meeting. Finally, our little Spider-Man had a real web of lifesaving caregivers who had his back. We felt like we could breathe again.
"My digestive system doesn't work, but I can still play."
Life with a chronic, serious condition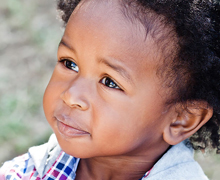 Caleb was born with a condition called MMIH where the smooth muscle that lines his urinary tract and intestine doesn't contract normally, slowing his bladder and bowel function. Caleb's small intestine can absorb nutrients, but his large intestine doesn't work at all. He has a surgical opening on his abdomen where an ostomy bag collects waste.
Many children with MMIH don't survive their first year of life, but our Caleb is a fighter. Before we moved to Seattle, he weathered everything from months-long hospital stays to being near death on a heart-lung machine (and almost having his leg amputated).
As parents of a medically complex child, we hope for the best and prepare for the worst on a daily basis. Most worrisome are the episodes where Caleb must be hospitalized because his small intestine freezes up and he can no longer eat by mouth. At these times he goes on a type of nutrition that is given intravenously, so it bypasses his stomach and intestines and goes straight into his veins.
One of our big fears when he has one of these episodes is that he won't be able to go back to eating on his own. Having a dedicated intestinal rehab team – doctors, nurses, nutritionists, social workers, psychologists – who have the expertise to wean him off the intravenous nutrition and help him get back to eating regular food is a huge weight off our shoulders. The team really does give us the support and strength to cope with the unpredictable nature of Caleb's condition.
And yet… our brave boy reminds us that he is a child first and a patient second by explaining his condition this way: "My digestive system doesn't work, but I can still play."
Focusing on quality of life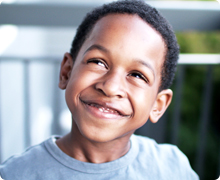 Nearly 25% of kids at Seattle Children's are just like Caleb: they have diseases that will challenge them – and their entire families – for the rest of their lives. And their childhoods include frequent visits to the hospital for appointments and inpatient stays. For Caleb, a child who has had such intense medical interventions at other hospitals, staff members at Seattle Children's go above and beyond to make his visits – and the medical care he receives – easy for him.
From the janitors to the valet parking team to the folks in the playroom, everyone is super friendly and always willing to chat. (Did I mention that our son doesn't know a stranger?) And it makes us tear up to think about how his entire care team rallies around his love of superheroes.
His primary doctor, a world-famous gastroenterologist, is "Jameson" because Caleb thinks he looks like the character from Spider-Man. The orthotics tech who fashioned a leg brace for him is "Tony Stark," a character from Iron Man. And the entire rehabilitation team refers to Caleb's appointments as "superhero training," a strategy that eliminated his anxiety around doing rehab for his leg.
I am so grateful for our care team and their focus on helping Caleb live his best life at every age and developmental stage. Of course, we pray for a miracle every day. But most times, we're reminded that every day is a miracle with Caleb in our lives. And we are incredibly heartened that his doctors say they fully expect him to grow into adulthood and be able to have a family of his own.
Thanks to Seattle Children's, Caleb is growing normally and that makes his journey a little less unpredictable. For us, we know his care team is with us every step of the way – and that makes our journey a lot less scary.
An Update on Caleb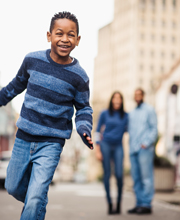 Caleb is now a kind, smart, silly and empathetic 10-year-old who loves to talk and keeps his family – and his healthcare team – on their toes with his thoughtful questions and commentary on the world around him.
Like many kids his age, Caleb loves video games. He also enjoys reading (especially pick-your-own-adventure books), playing basketball and badminton, riding his bike, watching movies and the Marvel lineup on Disney+, and helping his grandma distribute food to people who are homeless. He also recently started boxing lessons alongside his mom.
Although Caleb continues to have ups and downs on his medical journey, this avid superhero fan inspires his parents every day with his fighting spirit.
"I could not do what he does," says Constance, Caleb's mom. "He goes out into the world and is amazing to watch. I tell him that I don't worry about him; I just admire him."