Philanthropy Ambassadors
Meet Jude

I Asked Where to Get the Best Care; Our Doctor Said Seattle Children's
By Amna, Jude's mother
I will never forget the moment I learned I was pregnant with my daughter, Jude. I had moved from Sudan to join my husband, Amar, in the United States the year before. In my culture, we have big families with lots of kids, and Amar and I wanted to start our own family right away.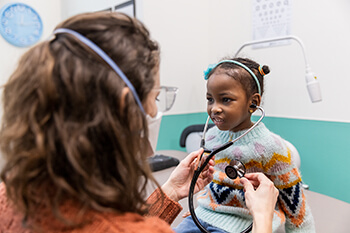 Jude was born in Omaha, Nebraska, in 2019. She was so beautiful. A few days later, after her newborn screening tests, we found out Jude had sickle cell disease (SCD).
I didn't know anything about SCD then, but I soon learned it was a genetic disorder in which red blood cells can block oxygen to parts of the body. Patients with this disease live with severe pain, are vulnerable to infections and can develop many life-threatening conditions.
Relocating to find better care
I began researching SCD care centers around the country and learned Seattle Children's Odessa Brown Children's Clinic (OBCC) and the hospital's Cancer and Blood Disorders Center had more experience caring for children with SCD than any other program in the Pacific Northwest.
Still, moving to Seattle seemed impossible. I was still learning to speak English and relied heavily on my Arabic-speaking family and friends in Omaha. But I could see what this disease was costing Jude. I felt like she was dying in front of my eyes and told Amar we needed to move.
Jude and I arrived in Seattle in March 2020, just as the COVID-19 pandemic was becoming more serious. Amar had come to Seattle first to start working and find us an apartment, but a few months into the pandemic, he was laid off. We worried about how we would pay for Jude's care.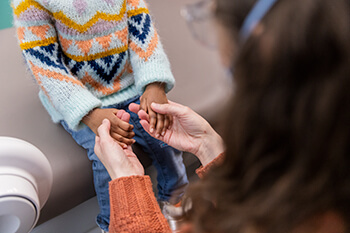 I began to feel the weight of being alone in a new city, but things changed when we took Jude to OBCC. We first met with Alix Dassler, the sickle cell team's nurse practitioner. I told her, "I need to feel I'm not alone." I needed to meet other families who had grown children with SCD so I could see my daughter's future.
Alix connected me to the Metropolitan Seattle Sickle Cell Task Force, and I began meeting with families who understood what I was going through.
At the same time, Dr. Michael Bender, director of OBCC's Sickle Cell Clinic, recommended a medication for Jude called Hydroxyurea. This magic medicine makes red blood cells bigger and rounder. It changed Jude's life. She grew significantly, had less pain and swelling and was more playful.
Sarah Wandler, a social worker at OBCC, helped us navigate our financial challenges. She connected us to community resources that provided food, diapers and four months of rent. Meanwhile, Seattle Children's Uncompensated Care Fund covered the cost of Jude's medical care.
It was such a relief to know Jude's treatment would not cost us. I realized we were not alone, after all. Someone cared about our situation.
Hope for the future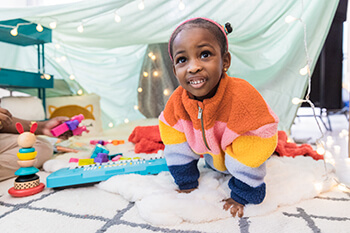 Jude has not been hospitalized since starting the Hydroxyurea treatment nearly two years ago. As her health improved, I was able to go back to school. I'm currently studying at North Seattle College, with the help of my tutor, Lara Backman, to earn a bachelor's degree in epidemiology. My classes help me better understand Jude's disease, and I'm sharing my knowledge with a group of other Arabic-speaking families in my community who have children with sickle cell disease.
When I first learned Jude had SCD, I thought our lives were going to stop, but I was wrong. Today, I see how strong we are. Jude is growing, and I am growing with her.
Seattle Children's sickle cell team saved my daughter's life. They helped me to find myself. When I felt utterly alone, Alix, Dr. Bender and Sarah cared about my situation. They became my backbone, my family.
I want other parents who have children with SCD to know there is hope. With a good care team and good medicine, their children can enjoy life just like Jude is.