Patient Ambassadors
Meet Lincoln

Full-Family Experience: They Saved Our Son's Life While Taking Good Care of All of Us
By Mindy Seay, Lincoln's mom
There are so many things I learned while going through my son Lincoln's health challenges, but one of the most important is not to give up before the miracle happens. Lincoln was born with heterotaxy syndrome, which caused his heart to develop on the opposite side of his body with only one pumping chamber. He needed a heart transplant to survive and was added to the national transplant list when he was just 4 months old.
We waited 89 days for Lincoln's heart, and as he got sicker and weaker, the waiting became excruciating. He nearly died six times over those long weeks, and during one of my lowest times, I told a dear friend that I didn't think I could face one more day. She asked me if I could do just the next five minutes and I said yes. When you look at the big picture, it can be too scary and overwhelming, so I learned to focus on the next five minutes … and the next … and the next.
A new heart for Lincoln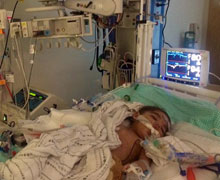 Then one unforgettable morning, our doctors gave us the news we had been praying for: "We have a heart for Lincoln." The surgery was a success and after a three-week recovery period, we could finally take Lincoln home to Anchorage, Alaska.
After Lincoln's transplant, I was brought to a place of raw gratitude for the family who chose to give our son life in the midst of their own grief. There are no words to express our gratitude and to describe the bond I will forever feel with the mom who gave so selflessly.
Lincoln is now nearly 3 and growing like crazy – his favorite thing to do is chase his older brothers around the house. And he can do that because he is getting stronger every day! His donor heart is pumping strong and there have been no signs of rejection. Though the drugs he needs to keep his body from rejecting the donor heart compromise his immune system, Lincoln looks and plays like any other energetic toddler.
As I look back over Lincoln's journey, I never felt alone. His care team at Seattle Children's always included me in their daily planning sessions, took time to answer my questions and carefully considered my ideas regarding his care. I really felt heard and like I was an integral part of the team. As a mom, you need to feel like you can take care of your baby, and the way they included me was very comforting.
Unexpected financial relief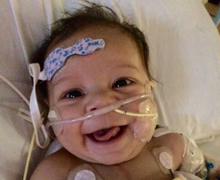 Seattle Children's was also there for us financially, and that made a significant difference in our ability to be there for Lincoln. When we first learned our baby would need a transplant, we were terrified we'd go bankrupt and lose everything. We worried constantly about what would happen to our family of six. Our transplant cardiologist connected us with Seattle Children's Financial Assistance team. We met with a financial counselor and from that day on, the whole process was seamless. When they told us that we qualified for financial help we were speechless. Seattle Children's Uncompensated Care Fund allowed us to focus fully on our son's health instead of worrying about how we would pay for his medical care.
As the doctors were saving Lincoln's life, the rest of the hospital team made sure we were all taken care of. We had moved our family from Anchorage to Seattle so Lincoln could get the best care possible. We were together during Lincoln's long wait for a heart, then through surgery and his recovery. And during this time, Seattle Children's was also there for Lincoln's older siblings.
Showing up for sibs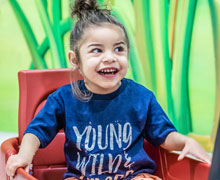 Our kids were invited to Sibshops, a program that provides entertaining activities for siblings of long-term patients. A pediatric psychologist met with everyone in the family to make sure we received the support we needed. The social worker helped line up schooling for our other kids, and even found a gym and secured a scholarship so our grade school-aged sons could keep physically active doing their favorite sport, parkour. The staff gave us tickets to football games, offered rides to and from the Ronald McDonald House where we had a place to live, and even gave us access to a holiday shop where we could pick out gifts for all of our children.
As you can tell, it was a full-family experience and thank you isn't enough to express what we feel for the amazing support we received. We are forever grateful to the donor family who gave Lincoln his life-saving gift; we can't say enough good things about the medical expertise and family-centered care at Seattle Children's; and, we are so incredibly thankful for donors like you. Your gifts to Seattle Children's Uncompensated Care Fund allow families like ours the luxury of nurturing a very sick child rather than worrying about a mountain of medical bills. Thank you from the bottom of our hearts!
Learn More
Meet More It Starts With Yes Patient Ambassadors
About It Starts With Yes
It Starts With Yes: The Campaign for Seattle Children's is a bold initiative to partner with our community and deliver on our shared vision to transform children's health for generations to come. With your generous support, we can envision a day when we can say yes to hope, care and cure for every child. See what your yes can do and donate today.