Patient Ambassadors
Meet Lillee

The Experts at Seattle Children's Found a Way to End Our Daughter's Seizures for Good
By Aimee Haynes, Lillee's mom
Watching my 4-year-old run happily through the doors of Seattle Children's Federal Way for her speech therapy appointment, it's hard to imagine that nearly two years ago she faced hundreds of epileptic seizures every day. They happened so often that a camera installed above her bed once recorded 200 movements in one night while she slept!
"If there is one thing I would do differently, it would be to drive straight to Seattle Children's."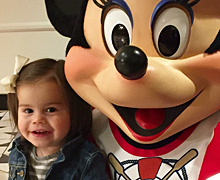 Lillee had her first seizure shortly after she turned 1. We were on a family vacation in Disneyland when we noticed something strange happening with Lillee, but it lasted only about 30 seconds. Lillee is our fourth child and my intuition kicked in. I knew something was wrong and I picked up my phone immediately and started researching. What I read about seizures closely matched what had just happened to our little girl, so I called our pediatrician that very day. The doctor told me to continue watching Lillee, but he wasn't overly concerned because there had only been one incident and he said it could be caused by teething or a fever.
The next morning, as we were getting ready to head out for a day of theme-park rides, Lillee had another seizure. Again, it lasted only 30 seconds, but this time it was followed by another and another. The seizures just wouldn't stop – so I called 911. At the hospital, an MRI confirmed that something major like a tumor wasn't to blame, so we flew home for further testing. A few days later, doctors at a hospital in Tacoma, Washington, told us what we had braced ourselves to hear: Lillee had epilepsy. They started her on an anti-seizure medication and told us that even with the treatment, she would likely have seizures on a regular basis.
Turning to the experts
Soon after that, even with the medication, Lillee experienced uncontrollable seizures and had to be admitted to the hospital. We wanted to do everything we could to help her, so we turned to the experts at Seattle Children's.
It was spring of 2015 when we started working with Dr. Jonathan Lopez, a neurologist in Seattle Children's Epilepsy Program. He began by fine-tuning Lillee's medications to see if different combinations or doses would keep her seizures at bay.
Dr. Lopez finally settled on a combination of four medications, and though we saw some improvement, he was concerned that the seizures would return. He explained that if a child's seizures don't respond to medication, the likelihood that other medicines will stop the seizures for good is very low, about 5‒10%. For Lillee, the next step was to explore treatments including surgery and nutrition therapy.
A chance for a healthy childhood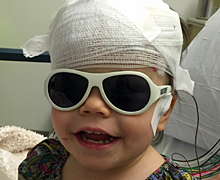 We learned that surgery can help in epilepsy when doctors can pinpoint the area of the brain responsible for the seizures and remove or disconnect the affected brain tissue. Better imaging and new surgical tools continue to improve precision and impact on surrounding healthy tissue. We decided to pursue surgery for Lillee because she was so young, and it offered her the best chance for a seizure-free childhood.
Surgery can often help patients like Lillee who have focal cortical dysplasia – a type of epilepsy common in children where patches of abnormal brain tissue cause the seizures. To find out if Lillee was a candidate for surgery, she went through a series of tests including a week-long video monitoring and an electroencephalogram study at Seattle Children's. Doctors measured Lillee's brain activity to map where her seizures started and found the source in the left back side of her brain, the area responsible for memory, speech and vision. Our surgeon, Dr. Jeffrey Ojemann, planned to remove as little tissue as possible to protect those critical functions.
Lillee had surgery in September 2015. All went well, and we were very optimistic because she had stopped having seizures. But our relief was short-lived because just a month later, on the morning of my 40th birthday, they started up again.
More tests showed that some of the tissue spared during the first surgery continued to cause seizures. Dr. Ojemann suggested removing the rest of the abnormal tissue so the healthy parts of Lillee's brain would be able to work better, and hopefully, put an end to her seizures for good. In early 2016, Dr. Ojemann removed the rest of the affected parts of Lillee's left brain, again working to have as little impact as possible on the areas responsible for speech, memory and vision.
Breaking free from seizures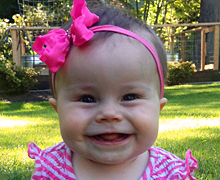 After surgery, Dr. Lopez came to see how she was doing. I told him that Lillee hadn't taken her normal dose of medication that day. The seizures that had gripped our lives for the last two years had finally stopped! That very day we began weaning Lillee off her medication and I'm happy to report that she took her last dose in April 2017.
The doctors say that considering the total number of seizures she had, Lillee's progress is nothing short of amazing. Today, our little girl is an adventure-seeker with an independent streak who loves riding her bike and dancing. She recently started school and she is learning to ski. Though Lillee will face hurdles including peripheral vision loss and some developmental issues, regular speech and occupational therapy at Seattle Children's South Clinic are helping her brain develop to its fullest potential.
We feel so blessed that Lillee was a candidate for surgery and that we have Seattle Children's expertise right here in our backyard. If there's one thing I would do differently, it would be to get off that plane from Disneyland after Lillee's first seizure and go straight to Seattle Children's.
Meet More It Starts With Yes Patient Ambassadors
About It Starts With Yes
It Starts With Yes: The Campaign for Seattle Children's is a bold initiative to partner with our community and deliver on our shared vision to transform children's health for generations to come. With your generous support, we can envision a day when we can say yes to hope, care and cure for every child. See what your yes can do and donate today.