Patient Ambassadors
Meet Liesel

Brain Tumor Research Inspired Me to Follow a New Path
By Liesel Von Imhof, patient
When I was 14, I started having terrible migraines. My doctors weren't able to find the problem and the official opinion was that they were the result of accumulated stress from my heavy school load and busy sports schedule. My headaches became worse and finally, when I was 16, during a routine eye exam, an optometrist noticed something irregular in one of my eyes and suggested I go to the ER right away. Doctors there ordered an MRI. The test revealed a ping-pong ball–sized tumor in the middle of my brain and I was immediately referred to Seattle Children's.
"I will never forget my care team at Seattle Children's for returning me to good health and inspiring me to pursue a new dream to study biomedical engineering."
So many questions were swirling around in my mind on my first visit to Seattle Children's in July 2016. The good news was that the tumor was not cancerous. (My family joked that I was such an overachiever, even my tumor was special: It occurs in only 14 people out of a million!) The not-so-good news was that it was located deep in my third ventricle – one of the most difficult areas to operate on. My doctors said it had likely been growing since birth and it needed to be surgically removed before it caused more trouble. I gripped the edges of my hospital bed and prepared for the ride.
An invitation to make history
Before my surgery, Seattle Children's oncologist Dr. Sarah Leary invited me to be part of a research clinical trial that tested the safety of a drug called Tumor Paint. It was developed by Dr. Jim Olson, an oncologist at Seattle Children's. Though it had been tested for safety in adults, this was the first trial to evaluate it for safe use in children and teens.
When injected into the body, Tumor Paint has this amazing ability to go straight to the brain where it binds to tumor cells. Viewed under a special light, the tumor cells glow so neurosurgeons can better distinguish diseased tissue from normal brain tissue. It's a tool that promises to help neurosurgeons remove only tumor tissue and preserve healthy tissue critical to brain function. Despite my mom's hesitancy about them injecting me with bright-green fluid (partially modeled after scorpion venom, no less!), I was thrilled to be part of groundbreaking medical science.
Even though I knew this trial was testing Tumor Paint's safety – and not whether it could distinguish tumor cells from healthy tissue – it was cool to learn that my tumor was glowing after they took it out and put it under the special light! Results to date from the clinical trial I participated in show Tumor Paint is safe for kids. My hope is that it will eventually become standard care when treating brain tumors.
Three weeks after surgery, I was well enough to return home to Alaska. While recuperating, I'd had plenty of time to set what were (in hindsight) some pretty ambitious goals for someone still recovering from brain surgery. I was determined to start my senior year of high school on time, maintain my valedictorian status and take four advanced placement classes. My mom and school counselor said I could keep the tough schedule if I agreed to one free period a day to rest my brain.

On August 22, 2016, less than a month after surgery, I started my senior year along with my friends. On the first day of school, I was disoriented by the noise and lost my bearings. My mind was fuzzy, and my memory was not what it used to be. Though the headaches that had plagued me for two years were gone, I realized my brain needed time to heal.
When I was cleared to exercise again, I immediately signed up for the cross-country running team. My doctors agreed I could play non-contact sports and, as a three-year varsity veteran, this was a big part of my life. At first, I couldn't even run a mile, but I kept pushing. After I ran the last race of the season, I shed tears of joy because only a few months before I had needed help to walk.
As for my studies, at first my grades were less than desirable. Reading took me twice as long and I started to regret pushing for all those hard classes. I wasn't ready to give up, so I hired a math tutor, stayed after school for extra help and reviewed class materials at night because I forgot a lot during the day. The extra work paid off: Initially skeptical about my placement in her class, my calculus teacher congratulated me for a solid performance on the midterm. Eventually I finally got an A on a math test, my strongest subject before the surgery.
A team effort
Even though I was back home in Alaska, we stayed in close contact with my Seattle Children's care team. Their support was a huge confidence booster and they gave me the determination I needed to stay on my path – and apply to Harvard's early-decision program. The day I received my acceptance email was one of the happiest of my life!
In the second semester, classes became a bit easier to handle. I competed with the varsity cross-country ski team and I got straight A's. And I'm pleased to report that I did earn the valedictorian honor when I graduated in spring 2017!
I still have some short-term memory loss, but I've learned ways to compensate. I'll also have a shunt for the rest of my life to relieve pressure on my brain due to accumulated fluids, and I'll always need follow-up appointments to make sure it's working properly.
I started college in fall 2017 and my first year was so exciting! I feel deeply humbled, thankful to be alive and grateful to be working toward a degree in biomedical engineering. My dream is to bring lifesaving medical advances like Tumor Paint to kids around the world. I will never forget my care team at Seattle Children's for helping me feel myself again and inspiring me to pursue this new path.
An Update on Liesel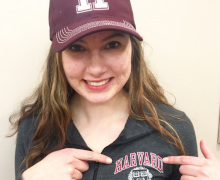 Liesel is a force to be reckoned with – she has not let anything stop her from accomplishing her goals.
In May 2021, she will graduate from Harvard University (her dream school) with a degree in stem cell biology.
Liesel currently works part-time in a cancer research lab and plans to remain in that job for another year before applying to medical school. She is especially interested in targeted genetic medicine.
When not studying or working in the lab, she enjoys running, hiking and roller skiing (cross-country skiing on wheels).
Although she still copes with short-term memory loss, Liesel has made huge strides and feels stronger every day. "I was told it was about a two-year recovery process after surgery – and that after two years, that was as good as I was going to get," Liesel says.
After nearly five years, that was not the case. "Every year, I somehow reach a new height," she says. "My trajectory is going up!"
Meet More It Starts With Yes Patient Ambassadors
About It Starts With Yes
It Starts With Yes: The Campaign for Seattle Children's is a bold initiative to partner with our community and deliver on our shared vision to transform children's health for generations to come. With your generous support, we can envision a day when we can say yes to hope, care and cure for every child. See what your yes can do and donate today.