Patient Ambassadors
Meet Erin

Halfway Around the World: A Clinical Trial in Seattle Saves Our Daughter's Life
By Sarah and Antony Cross, Erin's parents
Our only child, Erin, was diagnosed with acute lymphoblastic leukemia (ALL) when she was 2. After enduring many grueling rounds of chemotherapy and a bone marrow transplant, Erin suffered a relapse for a third time when she was 6. No words can describe that dark day and our devastation at the thought of losing our daughter. Staying home in England meant we were out of options – no hospital in the U.K. was equipped to give Erin a fighting chance at survival.
In the spring of 2016, from our home in Chester, England, we learned about immunotherapy – an experimental treatment that uses the body's own immune system to seek out and destroy cancer cells. (Many types of cancer fly under the radar and cannot be detected by T cells, the body's natural defense against viruses and rapidly dividing cells like cancer.) Finally, we found an immunotherapy trial for pediatric patients whose ALL had relapsed with no treatment options left. Our email went halfway around the world to Dr. Rebecca Gardner, a pediatric oncologist at Seattle Children's Hospital who was leading the trial.
Almost immediately, Dr. Gardner replied and told us that Erin met the requirements for the trial. She wanted us in Seattle as soon as possible to start what we only hoped would be the beginning of Erin's last fight with cancer.
A few weeks after our first contact with Dr. Gardner, we walked through Seattle Children's doors. It was a surreal moment, seeing the place that would become our second home and meeting the doctors and nurses who would become part of our family.
Battle in Seattle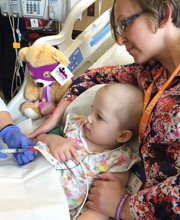 Within a few days, Dr. Gardner started Erin on a chemotherapy treatment that would keep the cancer at bay. Once Erin was stable, a small amount of her blood was drawn and taken to the research lab where her T cells were programmed to identify and destroy cancer cells. While we waited for Erin's army of amped-up T cells to multiply in the lab over a period of several weeks, we toured Seattle Children's Ben Towne Center for Childhood Cancer Research. We were overwhelmed to be in the actual place where doctors and scientists work every day to give families like ours hope.
When the T cells were ready to battle Erin's cancer, we knew the next few days would come with many ups and downs. Within hours of the T cells being put back into Erin's body, we watched her struggle through numerous seizures, spike a high fever and experience deep chills. But all of the side effects meant the T cells were continuing to multiply in her body and the immunotherapy treatment was working!
A couple weeks' later, Erin was well enough to move to the Ronald McDonald House with us. There, we waited for Dr. Gardner's call. The call that would tell us whether or not the treatment had worked. It's hard to prepare for such a life-changing conversation, but Dr. Gardner got right to the point: the reprogrammed T cells had successfully killed off the leukemia cells and Erin was cancer-free. As we cried, laughed and hugged, we felt a kind of joy that can't be explained.
Two places to call home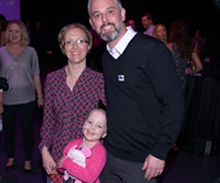 Throughout the months we called Seattle home, we were continually amazed to watch our care team work – precisely efficient and equally caring and determined yet gentle with our little girl who had spent the majority of her life battling a disease no child should ever have to experience. From that first email Dr. Gardner sent, we knew Seattle Children's was special. We also knew if any place could help us keep our little girl, it would be with this team.
We watched the doctors and nurses bond with Erin and give her as much control as possible during her hospital experience. Realizing she was wise beyond her years, Erin's team treated her like a friend and delighted in her spontaneous comedic timing. Through all of our time in and out of various hospitals, no one ever knew our family the way our care team in Seattle knew us.
After Dr. Gardner's call, the team continued to closely monitor every bit of Erin's progress. When Erin was finally cleared to go back to England, our hearts felt divided. Our experience in Seattle changed our life. Far beyond the care team, many people in the community had rallied around our family with a level of support we could never have dreamed of.
Just before we left to move back to England, we attended the first CELLebration event – marking the successes of the immunotherapy trials and the Strong Against Cancer fundraising initiative. Sitting with some of the world's leading cancer researchers – the ones who saved our daughter's life – and sharing our elation was the perfect end to our time in Seattle.
Inching closer to normal
In October 2017, we marked the one-year anniversary of Erin being cancer-free. Watching our 7-year-old ease her way back into school, laugh with her friends and dress up for Halloween for the first time (as a granny, no less!) makes us grateful for Seattle Children's every moment of every day.
It's been a long time since we've been able to see a life beyond cancer. And a long time since Erin has been able to go outside or have a playdate. We get to say yes to her simple wishes now, because Seattle Children's said yes to us.
Learn More
Learn more about Erin's incredible journey to finding a second home in Seattle, capturing the hearts of people from around the world and making her way back home to the U.K.:
Meet More It Starts With Yes Patient Ambassadors
About It Starts With Yes
It Starts With Yes: The Campaign for Seattle Children's is a bold initiative to partner with our community and deliver on our shared vision to transform children's health for generations to come. With your generous support, we can envision a day when we can say yes to hope, care and cure for every child. See what your yes can do and donate today.