Patient Ambassadors
Meet Cassidy

One Song at a Time: How Seattle Children's Helps Me Live a Very Full Life
By Cassidy Huff, patient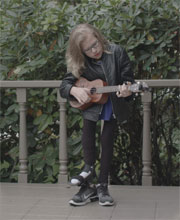 My name is Cass Huff and I'd like you to know that I'm just a regular teenager. The fact that I've had 41 surgeries in my 15 years doesn't mean that I don't love to do typical things like go to school dances, cheer for my high school football team and treat myself to a mocha at Starbucks.
I also happen to be one of only 150 people in the world with a super, super-rare genetic condition called Conradi–Hunermann syndrome. It mostly affects my spine and lungs, and it made me blind in one eye and deaf in one ear – but I've never let any of this define me. Seattle Children's is the only place in the region where I can get the special care I need – and it's where I can always count on being seen for who I am. Since I was 1 month old, my care team has been there to help me live a very full life. I feel lucky to have exactly the kind of support I need just a short drive from home.
Even though I've spent a lot of time in the hospital, medical details are not what I want to be known for.
I've been a professional musician since I was 8, and my ultimate goal is to perform on Broadway. I guess you could say music has always lived inside me. I got my first instrument – a toy xylophone – when I was 2 and taught myself how to play "Twinkle, Twinkle Little Star" and "Mary Had a Little Lamb." When I was 4, my parents gave me a keyboard and the first song I learned to play on it was Beethoven's "Ode to Joy." That same year, I used a wish from the Make-A-Wish Foundation for a chance to sing with the country music band Rascal Flatts to a sold-out Tacoma Dome. From that moment on, I have performed every chance I get. I play the piano, ukulele, guitar, clarinet – and I love to sing. Singing helps me clear my mind and it makes me feel better when I feel down. If I have something difficult to say, it's easiest for me to write a song about it and sing it to you.
Coping and connecting through song
Music also helped me through my longest and hardest hospital stay – 52 days in halo traction. My condition causes severe scoliosis, so the right side of my body is 3½ inches shorter than the left side. When I was 13, my doctors put eight pins into my skull and attached a ring to it – the "halo." Every other day they would add weight to the traction to give my spinal cord room to stretch enough so they could fuse 17 of my vertebrae. The goal was to make my spine as straight as possible and relieve pressure on my lungs. After halo, I could breathe a lot better, which I'm happy to say helped my singing! My spine curvature and posture also improved.
"When I think of Seattle Children's, the first word that comes to mind is 'home'. I consider everyone there my family."
While I was in the hospital all those weeks, music helped me cope with pain and connect with people. I wrote parodies, like turning Adele's song "Hello" into "Halo," and they opened the doors to the ICU so all the nurses and patients could hear me sing. The respiratory therapists say singing even helped my lungs grow stronger!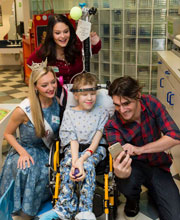 Over the past 15 years, they've learned a lot about how to help kids with extremely curved spines. Now patients don't have to have surgeries every six months to lengthen their spines like I did. Doctors do this cool new thing where they use magnets to lengthen special rods placed in the spine in a series of outpatient procedures – without surgery! I'm glad that what my doctors learned by helping me paved the way for younger patients to have fewer surgeries.
It's important for me to find ways to make life a little easier for people I see struggling. In middle school, I worked in a peer tutoring program for kids with special needs. Many of them could not speak well and it was hard to understand them, so I organized a fundraiser to buy iPads so they could communicate better. (I was super surprised and honored to be named 2016 Burien Citizen of the Year for this.) I'm also development director for the Melodic Caring Project – a nonprofit that streams live music to hospitalized and chronically ill kids.
Music is also how I say thank you to "my" Seattle Children's for what they have given me. I visit patients in the hospital to play my ukulele and sing for them. Music is healing, and I love bringing smiles to other kids and families. I also perform at Seattle Children's fundraisers, and recently wrote a song with composer Mateo Messina for his annual LUMA Guild concert. We sang it together on stage at Seattle's Benaroya Hall for a huge audience – it was amazing!
Music has taken me far in my life and taught me things I wouldn't have realized without it. And just like the people at Seattle Children's, music has always been there for me and always will be.
See you on Broadway!
An Update on Cass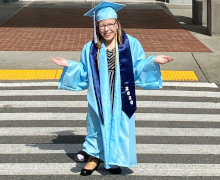 Cass graduated from high school and is currently studying musical theater at the American Musical and Dramatic Academy (online her first year). She looks forward to the days when she can meet face-to-face with other students passionate about the arts.
In July 2019, Cass released her first single called "Waves" – a song she wrote, recorded and edited. She released the song on the same day as her 43rd surgery. Although she took a short break from songwriting during her senior year of high school to focus on school, her health and her new service dog, Champ, she is now back at it.
Over the last few years, Cass has shared her medical journey and musical talents at fundraising events for several nonprofit organizations, including Seattle Children's.
"I would not be alive today without Seattle Children's," Cass says. "They've given me incredible opportunities inside the hospital and as a patient ambassador. I could not have asked for better experiences."
Read More
Read more about Cassidy's journey and her inspiring career as a musician:
Meet More It Starts With Yes Patient Ambassadors
About It Starts With Yes
It Starts With Yes: The Campaign for Seattle Children's is a bold initiative to partner with our community and deliver on our shared vision to transform children's health for generations to come. With your generous support, we can envision a day when we can say yes to hope, care and cure for every child. See what your yes can do and donate today.