Patient Ambassadors
Meet Camille

Derailed by leukemia as a college sophomore, Camille Goodale went through standard chemo treatments, but her cancer returned. She has participated in three CAR T-cell immunotherapy trials at Seattle Children's to try to beat the stubborn disease, and she's hopeful that the latest trial will put her cancer into permanent remission.
My Cancer Journey Stops Here
By Camille Goodale, patient
Note to readers: This story includes some mild profanity.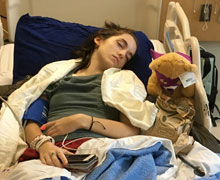 There are two mindsets you can have with cancer treatment: You can be negative and grumpy and pissed at the world, or you can try to find the silver lining. Writing a blog has helped me find my silver lining. Through my writing, I've tried to show that even though I have a cancer story, I'm still the same person. Yes, cancer has changed my life, but I'm still Cam. To give you an idea how writing helps me, here's an excerpt from my blog – The Chronicles of Cam:
Cancer will make you cynical. Don't let it.
There's so much more to life. So, what if I lost a bit of muscle mass and weight? So what if I don't have hair? Those who care don't matter, and those who matter don't care. The world is a good place, and there are good people out there to meet. You gotta go through some suffering to truly appreciate real happiness and joy. It's easy to get caught up in the social norms and focus on how you just don't quite fit in. It's easy to view the world as this damned place and that life isn't fair.
But I say to hell with fitting in. I want to break these norms and show that we are beautiful regardless of what mold we try to fit into. There is no mold for unique. I am beautiful with or without cancer. You are beautiful with or without X, Y and Z. We all just have to stick together.
When I wrote this, I had just two rounds of chemo to go and I was thrilled that my cancer journey was finally ending. Little did I know that my leukemia would return and return and return and, yup, return again. But I'm getting ahead of myself …
A year and a half after I was diagnosed, my leukemia was back. My doctors explained that this time around, chemo and radiation weren't an option. I needed the best science had to offer if I was going to beat this thing. That's when I came to Seattle Children's to join a CAR T-cell immunotherapy clinical trial led by Dr. Rebecca Gardner.
Hello, Seattle Children's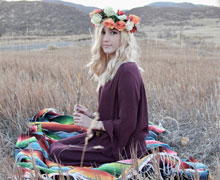 From the first day I arrived at Seattle Children's, I felt cared for – the hospital is like one giant support network. Dr. Gardner even called to check on me while she was away on vacation! Honestly, as terrible as the situation was, it was a really positive experience. I loved all my doctors and nurses and, more importantly, I trusted them.
The radiation and chemo I went through as a first course of treatment may cause osteoporosis, cataracts, high cholesterol or heart problems later in life. Thanks to new, safer cancer treatments like immunotherapy, kids with a leukemia diagnosis will have a much more direct path to freedom. One day soon, they can skip all the chemo and radiation and go straight to immunotherapy, which is much easier on the body. Just two days after my CAR T-cell immunotherapy treatment, I was able to run a mile!
You are the backbone of cancer research
To all the people who donate to cancer research, I want to say thank you from the bottom of my heart. CAR T-cell immunotherapy trials wouldn't happen without heroes like you who support Strong Against Cancer, a national fundraising push to develop cures for childhood cancers. You are the backbone of cancer research. Without you, I wouldn't be here. Every day you are helping to spearhead new ways to cure the disease.
Unfortunately, my cancer story didn't end with the CAR T-cell trial. Once again, my body refused to take a direct path to freedom. The new T cells – my fighter cells that were reengineered to kill the cancer – did their job swiftly and I was in remission in just 10 days. But then, shortly after that, they packed their bags and left my system for some reason. Dr. Gardner explained that the faster the T cells leave the body, the more likely patients are to relapse, so I needed a bone marrow transplant. I was super worried at first, but, luckily, we found the perfect match.
I had the bone marrow transplant in June 2018 and all went smoothly. I was so excited to get back home to California with my mom, and over the next six months I got into a good stride. I was slowly reclaiming my life – working out, taking college classes online and hanging out with friends. Then, right before Christmas, a routine test delivered news that totally blindsided me: My leukemia was back for a third visit. I was in total shock because I had been feeling so good and had zero symptoms. Huge. Bummer.
Immunotherapy: Take 2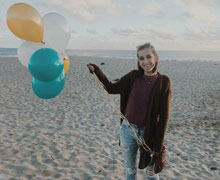 Dr. Gardner commiserated with me and my mom before offering a ray of hope: I was eligible to join two new immunotherapy clinical trials: PLAT-02 and PLAT-03. Pediatric Leukemia Adoptive Therapies (PLAT) are designed for people like me whose cancer makes an unwelcome reappearance. PLAT-02 targets the CD19 protein produced by most leukemia cells, including mine. This trial works in tandem with PLAT-03, which provides "booster" doses of T cells to patients who have gone into remission after PLAT-02. These booster doses act like food for the CAR T cells; the hope is that nourishment from the booster cells will help the cancer-fighting CAR T cells persist longer in patients' bone marrow and body.
Everything went well with my PLAT-02 treatment – the CAR T cells did their job and I went into remission. But a month later, when I was due for my first booster cells, a test revealed that my CAR T cells had once again vacated the premises. (Insert scream of frustration here.) Since my remission was unstable, my doctors sent me back home, but not before giving me promising news: I was eligible for PLAT-06, the first immunotherapy trial at Seattle Children's to use a human antibody receptor (the part of the T cell that binds to the cancer cells) rather than mouse antibodies. The thought is that by using a fully human antibody, the entire CAR T-cell receptor will not appear foreign to the body, and the immune system won't clear out the engineered CAR T cells. This was great news to me with my recalcitrant CAR T cells!
Immunotherapy: Take 3
In May 2019, mom and I were back in Seattle with all our fingers (and toes) crossed. I received my engineered T cells and I'm happy to report that they were effective: Dr. Gardner confirmed I am again in remission! I'm beyond excited to dive into the final preparations for a trip Europe this summer. I'll be connecting with a former exchange student friend in France, and tasting the delicacies of Copenhagen, Dublin, Greece and Italy with college friends. And this fall, I'll be on the home stretch to a degree in business management – just two classes to go!
I know my journey sounds like a crazy ride, and it has been; I'm just incredibly thankful that science and Seattle Children's researchers are staying one step ahead of my cancer. And even though I've faced repeated challenges, I'm optimistic. I hope that sharing my story will help people understand that cancer immunotherapy trials wouldn't happen without philanthropy. Your generous donations are the reason I'm still here today. I can't thank you enough.
Meet More It Starts With Yes Patient Ambassadors
About It Starts With Yes
It Starts With Yes: The Campaign for Seattle Children's is a bold initiative to partner with our community and deliver on our shared vision to transform children's health for generations to come. With your generous support, we can envision a day when we can say yes to hope, care and cure for every child. See what your yes can do and donate today.