Patient Ambassadors
Meet Alex

My Daughter's Breakthrough at Seattle Children's Autism Center Changed Our Lives Forever
By Seetong Franklin, Alex's mom
When my daughter Alex turned 2, she stopped talking and smiling and didn't want to interact with her older brother or me. All she wanted to do was play with toy car parts – not with stuffed animals or anything else – and I knew something wasn't right.
When she was 3, her pediatrician referred us to Seattle Children's Autism Center. At our first appointment, Dr. Sue Livingstone diagnosed Alex with autism spectrum disorder. When I first heard this, I was very worried because I was afraid my daughter wouldn't be able to talk or ever be able to live independently. Dr. Livingstone was very kind and explained what this diagnosis meant for Alex and for our family, and how the center could help.
After working with Dr. Livingstone and the rest of the team, I can honestly say the best thing about the Autism Center is the people. They are so respectful to the kids and their parents and they really understand what it means to live with autism.
As Alex grew, her ability to express herself and communicate what she wanted wasn't getting any better; as a result, she became very frustrated and had violent tantrums. When she turned 6, she started weekly speech therapy at the center. The people there were so patient and persistent – and they were able to connect with her in ways that changed our lives forever.
Breakthrough moment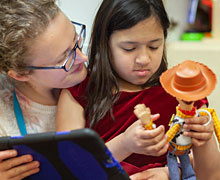 Our speech therapist used an iPad with a special app to help Alex learn to "talk." One day, after a therapy session, she told me that Alex had had an important breakthrough. She learned that she could ask for what she wanted using the iPad. She tapped a button on the iPad with a picture of an Oreo and got a cookie, and that helped her understand.
The therapist quickly worked to teach Alex that the iPad was more than an "Oreo vending machine," and showed her how she could use it to ask to go to the park or to the bus, or to say stop or more. From then on, Alex was much calmer. Little by little, she learned more words. Now Alex has a way to ask for what she wants instead of pulling, pushing and getting upset.
The center helped me apply for a grant so Alex could have an iPad. It's so helpful because she uses it to communicate at home and say more words. She plays a game and practices saying things like "red apple" and "yellow banana." Because of this tool, she can ask for her favorite foods, for music or to go outside. She also likes to take photos with her iPad, and she loves to dance to Katy Perry's "Roar," her favorite song. It feels so good to see her connecting with the world in new ways.
After Alex's communication breakthrough, the center helped us find a therapist at a hospital closer to home. She saw a speech therapist there for a year, and now she has therapy once a week at her elementary school. Without the Autism Center, Alex would never have had the skills to attend school!
"Alex has come a long way thanks to the people at Seattle Children's Autism Center. It feels like home for kids with autism, and I am so thankful we found the people there."
Always there for me
We still go to the center once a year to see Dr. Livingstone, and sometimes to check in with a therapist. Even though we don't visit often, the people there are always there for me. When I have a problem and need some advice, they are just a phone call away.
Katrina Davis, one of the center's family advocates, is like an angel to my girl and my family. When Alex was little, she left the house without me knowing. It was very scary! Katrina got me an alarm to prevent her from ever sneaking out the front door again. She also gave me the application to apply for a grant for Alex's iPad and to pay for piano lessons. Once I had a problem with the school about Alex's special education needs and Katrina told me about the Washington State Education Ombuds. I didn't even know people like that existed until I talked to Katrina. I don't know how she knows everything, but she does! She's someone I can always turn to.
Even though it's not easy and sometimes lonely to have a child with autism, Alex has come a long way thanks to the people at Seattle Children's Autism Center. It feels like home for kids with autism and I'm so thankful for the people there. They helped my precious girl, and now I don't have to worry so much.
An Update on Alex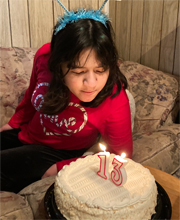 Alex is a happy, healthy 13-year-old who loves to learn and has grown by leaps and bounds in the 10 years since first seeking care at Seattle Children's Autism Center.
Now in seventh grade, Alex smiles often and can speak in short phrases, count to 100, understand the dates on a calendar and sing tunes like "Old MacDonald" and Charlie Puth's "See You Again." She also loves drawing and watching animated films, often imitating the characters in her favorite movies. "Madagascar," "Toy Story" and "Frozen" currently top her movie list.
Although Alex still occasionally uses the iPad to communicate, she can now use her words to ask for what she needs – something that seemed impossible a decade ago.
"Early on, doctors couldn't promise that Alex would ever talk," says Seetong Franklin, Alex's mom. "Now, it's so amazing to see Alex communicate with words. It's a beautiful feeling."
Meet More It Starts With Yes Patient Ambassadors
About It Starts With Yes
It Starts With Yes: The Campaign for Seattle Children's is a bold initiative to partner with our community and deliver on our shared vision to transform children's health for generations to come. With your generous support, we can envision a day when we can say yes to hope, care and cure for every child. See what your yes can do and donate today.