Conditions
Tetralogy of Fallot
What is tetralogy of Fallot?
Tetralogy of Fallot (pronounced teh-TRAHL-ah-jee of fah-LOH) is a rare, congenital condition that changes the normal flow of blood through your baby's heart.
In medicine, "tetralogy" means a set of 4 things that happen together.
This condition involves 4 heart defects:
There is a large hole in the septum, or wall, between the right and left

ventricles

. This is called a ventricular septal defect (VSD). It allows oxygen-poor blood to mix with oxygen-rich blood in the ventricles.
The pulmonary valve is narrowed. This is called pulmonary stenosis. It limits blood flow from the right ventricle to the lungs. It forces some oxygen-poor blood through the VSD into the

aorta

.
The muscle wall of the right ventricle is thickened. This is called right ventricular hypertrophy. It happens because the right ventricle has to work harder to try to get blood through the narrow pulmonary valve.
The aorta leaves the heart from a different spot than normal. It leaves from right over the VSD. This is called overriding aorta. Normally, the aorta leaves the heart from the left ventricle.
Together, these 4 defects limit the flow of oxygen-poor blood from your baby's heart to their lungs, where the blood should pick up oxygen. Instead, oxygen-poor blood leaves the heart and goes out to the rest of your baby's body.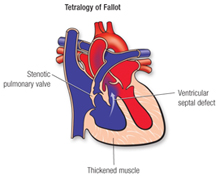 Tetralogy of Fallot occurs in about 5 of every 10,000 babies. Some children with this problem are born with other conditions too, such as Down syndrome or DiGeorge syndrome.
Diagnosing Tetralogy of Fallot
Sometimes doctors are able to diagnose tetralogy of Fallot in a developing baby before birth. They might first see something different about your baby's heart on standard prenatal ultrasound. To learn more about your baby's heart, you might have a fetal echocardiogram (an ultrasound done to check the heart more closely). Seattle Children's Prenatal Diagnosis and Treatment team cares for pregnant women and their families when their developing baby has a known or suspected problem.
To diagnose this condition after your baby is born, your child's doctor will examine your child and use a stethoscope to listen to their heart. In children with tetralogy of Fallot, doctors almost always hear a heart murmur – the sound of blood moving in the heart in a way that is not normal. Often, doctors detect tetralogy of Fallot during standard newborn screenings for serious heart problems.
The doctor will ask for details about your child's symptoms, their health history and your family health history.
Your child will also need tests that give us information about how their heart looks and works. These may include:
MRI (magnetic resonance imaging)

of the heart
Research and Clinical Trials
In the past, some children with tetralogy of Fallot needed open heart surgery later in life to put in a new pulmonary valve. Now, in some cases, we can do this through cardiac catheterization instead.
We use devices called the Melody, Harmony and Alterra transcatheter heart valves. This means we place a new pulmonary valve through a narrow tube directed into your child's heart. This avoids open heart surgery and leads to quicker recovery.
The Heart Center team at Seattle Children's took part in an early clinical trial that led to approval of the Melody valve by the U.S. Food and Drug Administration in 2010. Because of this research, we have a long history using Melody valves. We have more experience placing these valves than many other centers. In 2020, we completed a 10-year follow-up study checking outcomes in children who received a Melody valve.
Our doctors have also taken part in clinical trials of new transcatheter pulmonary valves, the Harmony valve and Alterra valve. These provide another option for teens and young adults who had surgery early in life for tetralogy of Fallot and who now need a pulmonary valve placed. Though the Harmony and Alterra valves are new, our Heart Center team has been offering them for years due to our role in research.
Related Links
For Healthcare Professionals