Conditions
Tetralogy of Fallot
What is tetralogy of Fallot?
Tetralogy of Fallot (pronounced teh-TRAHL-ah-jee of fah-LOH) is a rare, congenital condition that changes the normal flow of blood through the heart.
Tetralogy of Fallot involves 4 birth defects in the heart's structure:
The first is a large hole in the septum, or wall, between the right and left ventricles. This hole is called a ventricular septal defect or VSD. It allows oxygen-poor blood to mix with oxygen-rich blood in the ventricles.
The second is a narrowing (stenosis) of the pulmonary valve. This limits blood flow from the right ventricle to the lungs. It forces some oxygen-poor blood through the ventricular septal defect into the aorta, the artery that carries blood from the heart to the body.
The third problem is a thickening of the muscle wall in the right ventricle (right ventricular hypertrophy). It happens because the right ventricle has to work harder to try to get blood through the

pulmonary valve

.
The fourth problem is when the aorta leaves the heart from a different spot, right over the ventricular septal defect. This is called overriding aorta. Normally, the aorta leaves the heart from the left ventricle.
Together, the 4 defects limit flow of oxygen-poor blood from the heart to the lungs, where it should pick up oxygen. Instead, oxygen-poor blood leaves the heart and goes out to the rest of the child's body.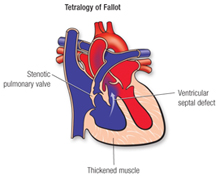 In recent years, the diagnosis and treatment of tetralogy of Fallot has improved greatly. Now, most children with this heart defect grow to adulthood and lead active lives.

Tetralogy of Fallot occurs in about 5 of every 10,000 babies. Children with this problem may be born with other congenitaldefects, including genetic disorders such as Down syndrome and DiGeorge syndrome.
Tetralogy of Fallot at Seattle Children's
U.S. News & World Report consistently ranks Seattle Children's cardiology and heart surgery program as one of the best in the country. With more than 40 pediatric cardiologists, we have experience diagnosing and treating every kind of heart problem.

Our heart team has treated many children with tetralogy of Fallot. We have years of experience with the surgery these patients require. We also have a pediatric cardiac anesthesia team and a Cardiac Intensive Care Unit ready to care for children who go through heart surgery.

See our statistics and outcomes for tetralogy of Fallot repair.

Seattle Children's has been treating children since 1907. Our team members are experts in their fields and in meeting the unique needs of children. For example, the doctors who give your child anesthesia (sedation) are board certified in pediatric anesthesiology. This means they have extra years of training in how to take care of kids. Our child life specialists know how to help children understand their illnesses and treatments in ways that make sense for their age.

When you come to Seattle Children's, a team of people will take care of your child. Along with your child's heart doctor (cardiologist), cardiac surgeons, cardiac anesthesiologists, cardiac intensive care specialists, newborn specialists (neonatologists), lung doctors (pulmonologists), advanced nurse practitioners, nurses, child life specialists, social workers and others will care for your child, if their help is needed.

We work together to meet all of your child's health needs and help your family through this experience. We'll discuss treatments in ways you can understand and involve you in every decision.

Read more about the supportive care we offer.
Symptoms of Tetralogy of Fallot
The main effect of tetralogy of Fallot is that there's not as much oxygen in the baby's blood as there should be. A low oxygen level can make the baby's skin, lips and fingernails look blue. This is called cyanosis.
Cyanosis can range from mild to severe, depending on how much oxygen-poor (blue) blood makes it to their lungs and how much goes out to their body. Some babies with this condition do not appear bluish at birth. They may become cyanotic later as their pulmonary stenosis gets worse.
Your baby may also have trouble feeding and failure to thrive.
Some babies with tetralogy of Fallot have episodes called tet spells, when they suddenly turn bluish and may faint. These spells are serious. Your doctor will talk with you about what do to if this happens to your child.
A tet spell may be caused by activities that change the pressure in the heart and increase flow of oxygen-poor blood to the body. These may include crying, pooping or kicking the legs after waking up. Tet spells occur most often in babies between 2 and 4 months of age
Diagnosing Tetralogy of Fallot
To diagnose this condition, your doctor will examine your child and use a stethoscope to listen to their heart. In children with tetralogy of Fallot, doctors almost always hear a heart murmur – the sound of blood moving in the heart in a way that's not normal.
The doctor will ask for details about your child's symptoms, their health history and your family health history.
Your child will also need tests that provide information about how their heart looks and works. These may include:
Blood tests
Chest X-ray or an

MRI (magnetic resonance imaging)

of the heart
Treating Tetralogy of Fallot
Tetralogy of Fallot must be repaired with open-heart surgery, either soon after birth or later in infancy. The timing depends on how severe your baby's condition is.
Treatment Options for Tetralogy of Fallot
Most children with this kind of heart defect have a single surgery during infancy. Sometimes, more than 1 surgery is needed.

During surgery, the ventricular septal defect is closed with a patch and the pulmonary stenosis is opened up.

Babies who have surgery usually do well. About 90% survive to adulthood and lead active lives. See our statistics and outcomes for tetralogy of Fallot repair.

If your newborn with tetralogy of Fallot has severe cyanosis, your doctor may give the baby fluids through a vein (intravenously, or by IV) and medicines that help improve blood flow.

If your baby or child has tet spells, your doctor will show you how to place the child in a knees-to-chest position. This position adjusts the pressure and blood flow in the heart. Older children usually squat spontaneously and do not have tet spells.

Some babies have arteries in their lungs that are too small to receive much blood. Surgery may be needed to increase blood flow to their lungs so their arteries will get bigger before they can have surgery to correct the defects in their heart. Doctors do this by placing a shunt that directs more blood to the lungs. Later, these children have the second surgery to correct the defects in their heart.
New Treatments for Tetralogy of Fallot
Later in life, some children with tetralogy of Fallot need additional surgery to put in a new pulmonary valve. In the past, this required open-heart surgery.
Now, in some cases, this can be done without having to perform open-heart surgery through cardiac catheterization or a hybrid procedure, using a device called the Melody transcatheter heart valve. This means a new pulmonary valve is placed through a narrow tube directed into your child's heart. This avoids open-heart surgery and leads to quicker recovery.
Our team at Seattle Children's is participating in international studies to better understand which patients should have these procedures that involve cardiac catheterization.
Adult Congenital Heart Disease Program
To meet your child's long-term healthcare needs, we have a special Adult Congenital Heart Disease Program to transition your child to adult care when they're ready.