Reconstructive Pelvic Medicine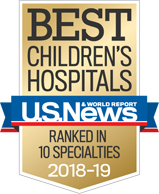 Seattle Children's is a national leader in caring for children and teens with complex pelvic conditions. In 2018, U.S. News & World Report ranked Seattle Children's #1 in the Northwest and among the nation's best for urology, gastroenterology and other programs.
Our Reconstructive Pelvic Medicine (RPM) Clinic provides complete care from birth to age 21. We treat children and teens with a wide range of colorectal and other problems in the pelvic area. This includes the urinary tract, bowels, anus, rectum, internal reproductive organs and genitals. Children may have problems because of how these body parts formed before birth or because of a later illness or injury.
Scheduling an Appointment With Reconstructive Pelvic Medicine
Take Part in Research
Help us answer questions about childhood health and illness and help other children in the future. Learn more.
Contact Us
Contact us at 206-987-1240 for an appointment, second opinion or more information.
To make an appointment, you can call us directly or ask your child's primary care provider to refer you. You do not need a referral, but we encourage you to coordinate with your primary care provider when coming to Seattle Children's.
Providers, see how to refer a patient.