Conditions
Venous Malformations
What is a venous malformation? What does it look like?
Venous malformations (VMs) are clusters of unnecessary veins. These veins are filled with blood, but are not used by the body.
They often appear as a purple mass at birth. VMs grow slowly. They tend to get larger when they are located in a part of the body that is below the heart. VMs often grow larger during adolescence.
What causes a VM and who gets it?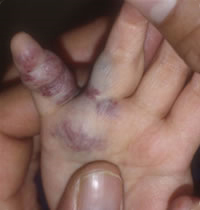 Genetic changes cause most VMs. A rare condition called blue rubber bleb nevus syndrome produces VMs throughout the body. VMs affect boys and girls equally.
How will Seattle Children's diagnose a VM?
It is important that a child be diagnosed by a doctor who is familiar with different types of vascular malformations. VMs can be confused with hemangiomas, vascular tumors or rare arteriovenous malformations.
Our doctors have treated hundreds of patients for venous malformations. We can usually diagnose a VM by physically examining your child.
Your child may also need imaging tests to see the extent of the VM and confirm the diagnosis. These tests can include MRI (magnetic resonance imaging), CT (computed tomography) scans, a Doppler ultrasound study or angiogram.
How will Seattle Children's treat a VM?
Depending on your child's condition, VM treatments may include:
Medicines: Slow blood flow can cause blood clots to form in the malformation. Medicine can decrease the pain and severity, as well as the number of blood clots.
Surgery: Separating the VM from the surrounding nerves and other important tissues requires precision and expertise.
A tight-fitting compression stocking, glove or sleeve can be worn to slow the growth of a VM on an arm or leg. These compression garments can also relieve discomfort.

Sclerotherapy

: With sclerotherapy, a doctor injects a solution into the VM. Sclerotherapy can relieve pain, reduce the size of a VM by as much as 80 percent and reduce the purplish color.
Glue embolization: We were the first to use an innovative procedure where we inject medical-grade glue into VMs. This makes the VM harden without harming the tissue around it. We safely remove the VM with one procedure, instead of treatments requiring multiple procedures. This new therapy has become standard care for some types of VMs at Seattle Children's. We are developing ways to apply it to other types of VMs as well as other locations on the body.
Why choose Seattle Children's Vascular Anomalies Program?
Seattle Children's Vascular Anomalies Program is 1 of only 2 vascular anomalies programs on the West Coast and is nationally recognized. Doctors from across the United States send children here for treatment because of our specialized expertise. We see more children with vascular anomalies than any other hospital in the region.
Our Vascular Anomalies team brings together experts, including otolaryngologists, dermatologists, plastic surgeons, ophthalmologists, geneticists and interventional radiologists. This team works together to develop a treatment plan that fits your child's unique needs. We can schedule your visit so your child sees all the specialists they need on the same day in the same locations.
We follow our patients and monitor their condition throughout their lives. Our doctors and nurses are always available to help you and answer questions.
We participate in many clinical trials and studies of new treatments that might be more effective than standard therapy. This means some of our patients get the newest treatments before they are widely available. Learn more about our research.
Contact Us
If you have questions about a consultation or second opinion, email us or call 206-987-4606. If you would like an appointment, ask your child's primary care provider to refer you.
Providers, see how to refer a patient.