Conditions
Twin-to-Twin Transfusion Syndrome
What is twin-to-twin transfusion syndrome?
Twin-to-twin transfusion syndrome (TTTS) is a condition that happens during pregnancy in which 1 twin gives blood and nutrients to the other twin. It can happen in identical twins (or triplets) who share a placenta (monochorionic multiples).
Typically, each baby in the womb has its own vessels that carry blood and nutrients from the placenta to the baby and then back to the placenta again. Both babies get about the same amount of blood.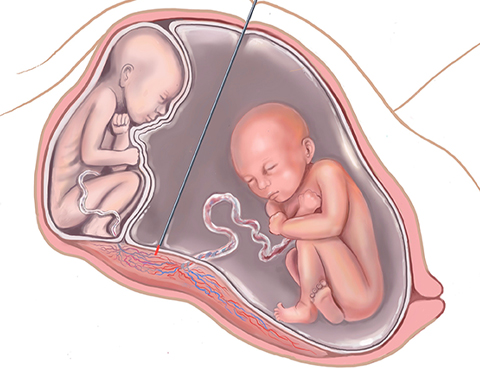 In TTTS, abnormal vessels in the placenta connect the babies' circulation. These vessels let 1 baby (called the donor) pump blood to the other baby (called the recipient). The babies do not get an equal amount of blood. The donor gets too little, and the recipient gets too much.
About 1 in 7 monochorionic pregnancies develop TTTS. The condition can begin at any time during pregnancy. Doctors do not know why it happens. It is not caused by anything the parents did or did not do.
The donor twin is at risk of not having enough water (dehydration), red blood cells (anemia) and amniotic fluid (oligohydramnios). Their bladder may be small or missing. They may not get enough nutrients or have enough space to grow well, and they may be smaller than their sibling.

The other twin is at risk of getting too much blood (hypervolemia) and too much amniotic fluid (polyhydramnios). As extra blood overloads their heart and blood vessels, they may get hydrops and congestive heart failure.

Without treatment, both babies are at high risk of dying in the womb. Another risk is going into labor too early before the babies are able to survive.

With treatment, there is a strong chance 1 or more babies in the pregnancy may be saved. Babies who survive and are born after treatment for TTTS typically go on to live a full, healthy life.
Seattle Children's Expertise and Care in Treating TTTS
"The best part was going to Seattle Children's, we went from being terrified to feeling comfortable. Seeing the same four people each time really helped."
- Nic Hamston, father of twins June and Hazle who had twin-to-twin transfusion syndrome. Read their story.
What are the symptoms of twin-to-twin transfusion syndrome?
Pregnant people may not notice any symptoms from TTTS. Often, this condition is found during a routine ultrasound.
If your babies have TTTS, you might notice these sudden changes:
Your belly gets bigger or feels fuller, tighter or less comfortable.
You feel more fatigued.
You feel more pressure in your belly or back.
You gain more weight than normal for pregnancy.
How is twin-to-twin transfusion syndrome diagnosed?
To diagnose TTTS, doctors use ultrasound. They check if the babies share a placenta, and they look for differences in the babies' size and the amount of amniotic fluid around each baby. They also look at blood flow in the babies' umbilical cords, brains and hearts to tell how severe the condition is. Seattle Children's has sonographers with special training in doing ultrasounds to find fetal conditions like TTTS.
To get more details, our pediatric cardiologists use fetal echocardiograms to check for effects on the babies' hearts.
How is twin-to-twin transfusion syndrome treated?
After checking you and your babies and talking with you about imaging and test results, we consider all the treatment options and explain each option to you. We make sure you understand the options and all your questions are answered. The entire team is here to give you the information and support needed for you and your family.
Before recommending a treatment plan, doctors take into account how severe the TTTS is. When there's an imbalance in amniotic fluid but no sign of further problems, doctors sometimes recommend waiting before having treatment. In this case, it is important to have visits with the care team and ultrasounds to check the babies for signs of change. Even if no other treatment is needed, the care team may decide at some point that the babies will do best if delivered early.

This is the gold standard for treating TTTS that starts early in pregnancy (about the first 26 weeks). To stop blood flow from the donor twin to the recipient twin, doctors do laser ablation, also called fetoscopic laser surgery or fetoscopic laser photocoagulation. They close the abnormal blood vessels in the placenta using light to heat and break down small amounts of tissue. The goal is to allow equal blood flow from the placenta to both twins so both have the chance to recover.

Most families who come to Seattle Children's with TTTS have this treatment. See our outcomes for laser ablations in TTTS.

Seattle Children's maternal-fetal surgeons do this minimally invasive surgery in an operating room at UW Medical Center–Montlake. It involves making a small incision in your belly (3 millimeters, or about the thickness of 2 pennies). Through this hole we can insert a thin tube with a camera (fetoscope), as well as a laser probe. The camera lets the doctors see the abnormal blood vessels. After sealing these vessels, we drain the extra amniotic fluid around the recipient twin.

Amnioreduction is using a needle to take out amniotic fluid. This can be done if there is too much fluid around 1 twin. It does not fix the uneven flow of blood in TTTS, but it may help with some of the effects. It's typically used only in mild cases that start later in pregnancy. Often, excess fluid builds up again over time, and doctors need to repeat the procedure (serial amnioreduction). We do this procedure at Seattle Children's Fetal Care and Treatment Center earlier in pregnancy and at UW Medical Center–Montlake later in pregnancy, using ultrasound to guide the needle. Some families go on to need laser ablation later in the pregnancy.

If TTTS or another health concern is so severe that 1 baby is not going survive, doctors can stop blood flow to this baby to get the best outcome for the other baby. They can do this using a small tool to deliver an electric current that heats and seals blood vessels in the umbilical cord.

As with laser ablation, our maternal-fetal surgeons do this minimally invasive surgery through a small incision in your belly. Through this hole we can insert a thin tube with a camera (fetoscope) and small surgical tools. The surgery takes place in an operating room at UW Medical Center–Montlake.

After treatment for TTTS, the Maternal Fetal Intervention and Surgery team makes sure you know what to expect next. If you had a procedure here, we give you details about recovering. We also share information with your referring pregnancy care providers so they have what they need to keep caring for you.

If you live nearby, we see you weekly for at least a month after your procedure to check your babies' health. If you live far away and this is not convenient for you, we recommend you see your referring provider weekly.

Even when TTTS treatment works, most of these babies are born early (prematurely). Premature babies may need special medical care in the weeks and months right after birth (and sometimes longer). A small number of babies (about 1 in 20) born after TTTS treatment have lasting neurological effects from TTTS. Seattle Children's has a full range of specialists to provide the care your child may need from infancy to young adulthood.
Contact Us
Contact the Fetal Care and Treatment Center at 206-987-5629 for an appointment, second opinion or more information.
Related Links
Paying for Care
Learn about paying for care at Seattle Children's, including insurance coverage, billing and financial assistance.
For Healthcare Professionals